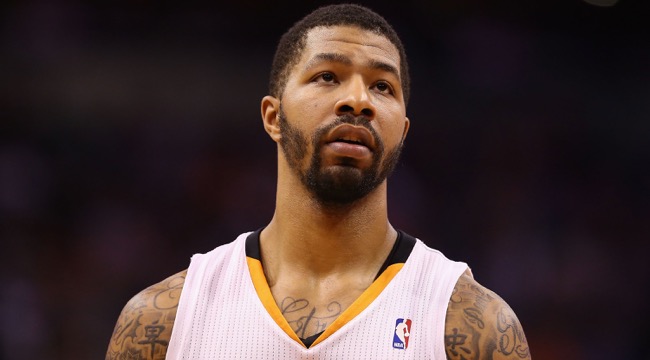 According to ESPN's Marc Stein, the Houston Rockets are reportedly interested in trading for Markieff Morris of the Phoenix Suns.
Morris is in his fifth NBA season, all in Phoenix. Although he is still having a productive year by some measures, averaging more than 12 points per game, he's not matching his production last season, or the loftier promise he showed in the 2013-14 campaign. His rebounds, shooting percentage, 3-point percentage, and minutes are all down from last season, and his player efficiency has dropped under 10 (the league average is 15).
Still, Morris is a talented player and the Rockets need some offensive punch at the four. Morris can space the floor better than Terrence Jones, so he might be a good fit in Houston, who desperately need a spark after a disappointing 10-11 start to their season.
The rumor of a Morris trade to Houston comes after an offseason in which he repeatedly made overtures for a trade after the Suns dealt his brother, Marcus, to Detroit to clear up cap space for the LaMarcus Aldridge free agency sweepstakes. Although he eventually publicly recanted his summer grousing on media day to start the 2015-16 training camp, it's not all that surprising the Suns are open to getting rid of him.
Stein is reporting that Jones would likely be dealt to Phoenix if the deal were to go down, but the Suns may have more options if they can just wait it out another week, as more than 100 players who signed deals over the summer will become trade eligible on Dec. 15.
(Via ESPN)