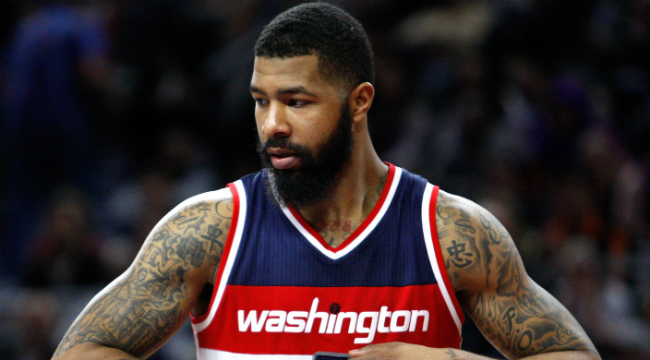 Markieff Morris was detained at the Philadelphia Airport on Thursday when he accidentally left weed — or as the police called it, "suspected marijuana" — in his checked baggage. It was a dumb mistake on Morris' part, but not of any real consequence, since it takes a whole bunch of pot to warrant any more than a fine in Pennsylvania.
Morris had a real ugly divorce from the Phoenix Suns, but since his trade to the Washington Wizards in the middle of last season, there has been nothing but good news about him fitting with the team. There may be some stodgy columnist ready to wag his finger at Morris because of outdated notions on cannabis, but Morris doesn't deserve to have people draw a parallel between forgetting to take weed out of his suitcase at the airport and his erratic behavior in Phoenix. Not to excuse his behavior in either case, but it's not worth the column space.
The Wizards themselves aren't making a stink out of this either:
Resume your offseason, Markieff, double check your bags, and hope that the Wizads can get some help for you in the frontcourt for next year, so that your team can stop wasting John Wall. Also, maybe put the bong in storage, it can be an outrageously expensive lifestyle for professional hoopers.
(Via CSN Philly)