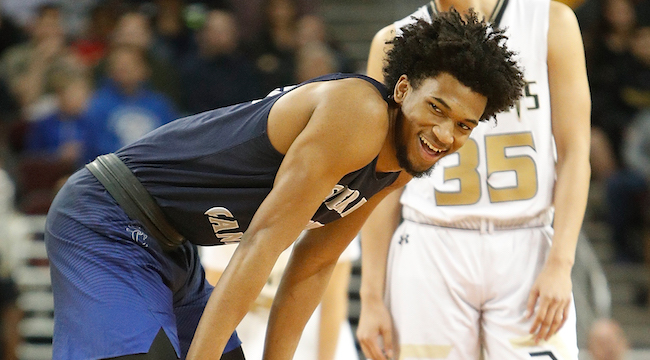 Marvin Bagley III may not be a household name just yet but the multi-talented high school basketball star is sure to be noticed when he arrives at the college level. To that end, the potential No. 1 overall NBA Draft pick announced his college decision on Monday evening and, ultimately, Bagley III landed on a pledge to the Duke Blue Devils over other options that included USC and UCLA.
Bagley III has operated as a member of the 2018 high school class, which would have placed him at the top of the heap for the 2019 NBA Draft. However, the 6'10 power forward announced that he will enroll (pending NCAA clearance) in Durham this fall and, provided he does so, Bagley III will be eligible for the 2018 NBA Draft alongside top-tier prospects like Missouri's Michael Porter Jr., Slovenian wing Luka Doncic and Arizona's DeAndre Ayton. In short, the 18-year-old will be jumping out of a battle with Zion Williamson for top billing and into the mix one year earlier with increased spotlight.
During the summer, Bagley III was seen taking it to NBA center JaVale McGee in the Drew League and that undoubtedly helped his recognizability to the casual basketball fan. Still, it is his considerable upside that makes him exceedingly intriguing. The addition of the versatile, skilled big man to the Duke roster will be highly significant when it comes to the college basketball picture in 2017-2018, potentially launching Coach K and the Blue Devils to the No. 1 spot in terms of preseason hype.
At the end of the day, though, the bigger takeaway is that Bagley III could be in the mix for the top spot in the 2018 NBA Draft and every move he makes at the college level will be scrutinized and evaluated as a result. Now, the basketball world knows where to find Marvin Bagley III this season and it will be on the Duke campus.