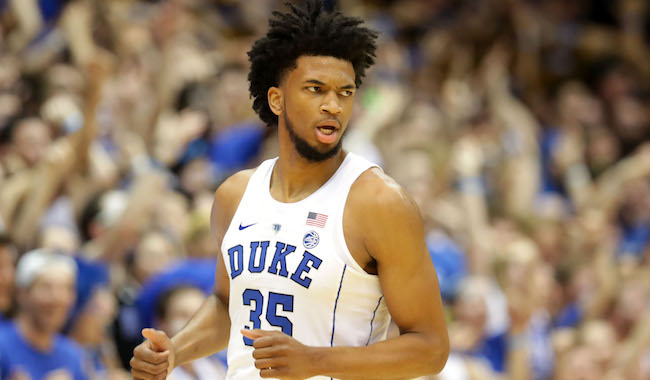 The 2018 NBA Draft is loaded with top-tier prospects and, when it comes to the evaluation of college and international players, a full-blown cottage industry has emerged surrounding the move to the top level of basketball. To that end, prospects like Duke big man Marvin Bagley III are likely used to being broken down from the standpoint of their on-court talent and, for the most part, it is rare to see prospects react directly to specific criticism from analysts before actually reaching the league.
However, Bagley wasn't happy about getting criticized for non-skill reasons during Monday night's ESPN broadcast of a game against Virginia Tech. In short, analyst Dan Dakich criticized Bagley for being "all about Bagley" and went on to point rather sharp negativity in his direction. (via Sporting News)
"I know this is blasphemy, but Bagley is all about Bagley. I mean, honest to goodness, I can see in 18 minutes why Duke was able to go on a run when he was hurt. You hate to say that about a kid, but he is about himself. He gets the ball, it doesn't come out. He doesn't play defense. He's a terrific talent, don't get me wrong. But you can see real clear, real fast, and I'll take all the shots that people want to give me, but you can see he is about him."
By Tuesday afternoon, Bagley had seemingly been alerted to what Dakich had to say. While he didn't mention the analyst by name, widespread interpretation was that the Duke standout was responding in kind.

Dakich is famous for aggressive takes in player evaluation (and other topics), including a well-chronicled piece of analysis in which he knocked Kristaps Porzingis prior to the draft for having "soft eyes." If nothing else, it came across as highly noteworthy for an on-air analyst to speak about a college player, especially a freshman, in this kind of way and Bagley's response was likely appropriate as a result.
Between now and June's draft, Bagley and other elite prospects will be picked apart for their strengths and weaknesses on the floor and that is simply the reality of the situation at the highest level of sport. Still, these particular comments veered from the standard evaluation process and he didn't seem to care for it.