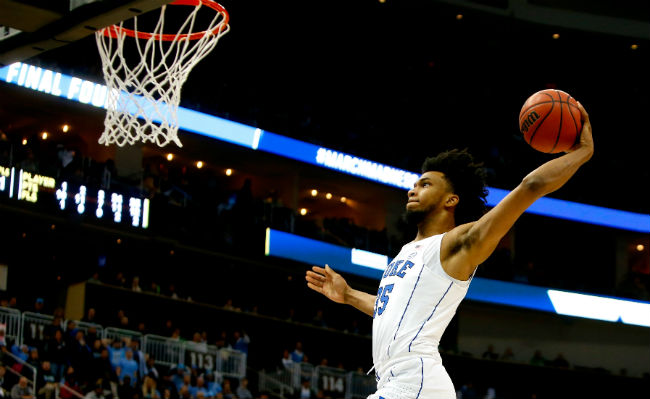 After two days of huge surprises and history-making upsets, the NCAA Men's Basketball Tournament broke out some chalk for its Saturday afternoon slate. Top-seeded Villanova easily dispatched No. 9 Alabama to start the second round of the tournament, and No. 2 Duke took care of No. 7 Rhode Island in an easy game for the traditional ACC power.
Still, the tournament doesn't have to rely on massive upsets to bring some excitement to your March weekend. After a disappointing performance from Arizona's Deandre Ayton and early bow outs from prospects like Michael Porter Jr. (Missouri) and Trae Young (Oklahoma), it was something of a relief to watch the casual brilliance of Marvin Bagley III at work for Duke on Saturday.
Bagley had 22 points in the Blue Devils' 87-62 win over the Rams, highlighted by some great work inside and monster dunks during the regular run of play. Here's one that helped Duke pull away early in the second half.
https://twitter.com/marchmadness/status/975101369420926976
A few minutes later, it was Bagley throwing it down once more with a little bit of an exclamation point in transition.
He wasn't done just yet.
But his game is much more than just getting feeds inside and yamming on folks from the A-10. He's got an arsenal of moves to get himself some space in the paint, too, and his footwork is as good as you'll see from any post prospect. The late help here does nothing to stop him from getting a great look on the spin move.

Look at him split two defenders here in the first half, somehow squeezing through for a nice lay in.
There's been a lot of talk about which college players are NBA-ready, and Bagley certainly looks like his skills, at least on the offensive end, will translate to the pros in a hurry when he presumably declares after Duke's run in the tournament ends. Bagley even flashed his range from deep, knocking down 1-of-2 three-point attempts on the afternoon.
While Bagley's eventual next stop is the NBA, Duke looks far from done in the NCAA Tournament as they're on to the next weekend with relative ease.