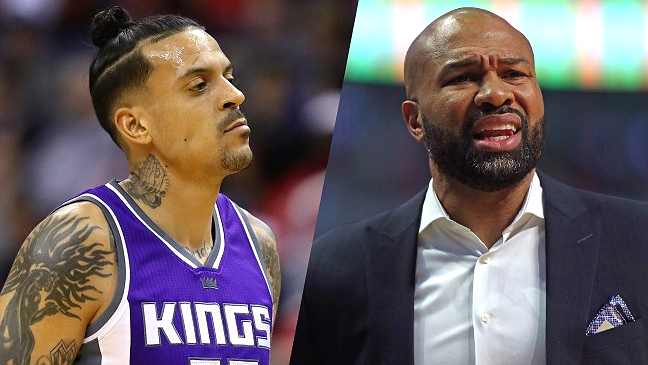 Matt Barnes brought up a little history with Derek Fisher on Monday night.
The NBA veteran was more than happy to readdress his infamous feud with Fisher on, of all things, a Bleacher Report Instagram post. The post featured a quote about his current relationship with Gloria Govan, the ex-wife of Barnes.
The quote, which was taken from a wide-ranging interview Fisher gave to the site, was enough for Barnes to comment and remind everyone exactly what happened during this so-called feud: Barnes drove nearly 100 miles and beat the hell out of Fisher.
"He sounds real tough on here," Barnes wrote. "Didn't sound like that when he was running around my house screaming & pleading!"
Most of the comments that followed were commending or persecuting Barnes for bringing back the past, which is exactly what Fisher was doing here anyway. I don't think anyone expected the next chapter of this feud to take place in Instagram comments, but apparently that's where the NBA gets most of its work done these days. The present is a weird place.
Back in 2015, the internet had a field day with the back and forth of this love triangle. Fans were so enthralled with the tale the even had the two hash it out in a UFC video game. But Fisher did not address the incident until he was fired by the Knicks in 2016, though some people think the incident with Barnes played a part in his termination. After he got the axe, he wrote a personal essay about the matter for Sports Illustrated.
Two years later, it looks like Barnes still isn't over how things shook out. Even if Fisher is "cool" with whatever the rest of us think of his relationship. Does it take two people actively angry to continue a feud? I guess we're about to find out.