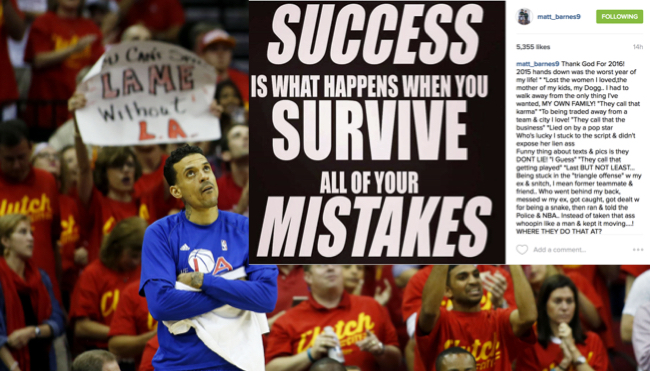 Matt Barnes had a rough 2015, and he wanted everyone to know it on the eve of 2016. In an Instagram post for the ages, Barnes addresses multiple juicy storylines from a 2015 that saw him leave the Clippers for the Grizzlies in free agency last summer after advancing to the Western Conference Finals with them.
First, though, lets run through all the events he addresses in his lengthy IG caption.
Matt Barnes claimed he was seeing Rihanna, but she said it was a lie. He responded that he's "too grown to lie." That last rebuttal was funny to us because as we've grown older, we've noticed more and more liars of all ages.
He also cursed out James Harden's mom in last season's Western Conference Finals against the Rockets. He later apologized, but then later went after Dwight (which is OK, we guess, since everyone does these days).
He signed with the Grizzlies over the summer, but not before throwing his old coach, Doc Rivers, under the bus by saying his old coach "couldn't wait to get rid of me."
Then came his fight with his former coach and teammate, Derek Fisher, which was awful on a number of different fronts, the worst being the presence of his crying kids as it all went down.
That wasn't the end of the Fisher brouhaha. Barnes later blamed Fisher for snitching to the NBA and the police about the fight. The scuffle ultimately led to a two-game suspension worth around $64,000.
So, yeah, that's a crappy year. But how does Barnes explain it all? Well, primarily by blaming everyone else, including Rihanna for lying, Derek Fisher for dating his ex behind his back, and his old team for not wanting him.
We've quoted his entire caption below, sic's and all.
Thank God For 2016!
2015 hands down was the worst year of my life! * *Lost the women I loved,the mother of my kids, my Dogg.. I had to walk away from the only thing I've wanted, MY OWN FAMILY! "They call that karma" *To being traded away from a team & city I love! "They call that the business" *Lied on by a pop star
Who's lucky I stuck to the script & didn't expose her lien ass
Funny thing about texts & pics is they DONT LIE! "I Guess" "They call that getting played" *Last BUT NOT LEAST… Being stuck in the "triangle offense" w my ex & snitch, I mean former teammate & friend.. Who went behind my back, messed w my ex, got caught, got dealt w for being a snake, then ran & told the Police & NBA.. Instead of taken that ass whoopin like a man & kept it moving….!
WHERE THEY DO THAT AT?
Guess cause I didn't SNITCH, I get a 2 game suspension by the league "They call that LIFE"

WHEN IT RAINED, IT POURED in 15
All this played out like a bad reality show, a nightmare, for your amusement & entertainment! For you to critique, make fun of, crack jokes & laugh about.. "What I shoulda did" or what "y'all would have done" Hmmmm… I say all this not for sympathy, because I had a hand in all the bad $h!t that happened.. I was never perfect in my relationship, I didn't see eye to eye w my head coach.. I was warned SEVERAL times about ole girl & I introduced love ones to people who I "thought were FRIENDS"… Lesson Learned!! This is for all of you who had a F@#%ed up year… To let you know I'm right there w you, We In this together! Everyone has ups & downs in this game called LIFE… It gets better…. "I think" Hahaa nah it does, trust me! — -Remember God gives his toughest battles to his strongest soldiers!!!
-Stay positive, hold ya head, tighten your circle & stick to your instincts..
-It's not about how many times you fall down, it's about how many times you get up!

Heres to freeing your hands of all the bullshit of 2015 & preparing for the blessing God has in store for us all in 2016!
HAPPY NEW YEAR,
LOVE
#THEBADGUY
Happy New Year, Matt. We think 2016 will go a lot better if you stop blaming others for your own self-made ills. Don't attack the man your ex is consensually dating, especially not in front your own kids. That level of insecurity isn't attractive. Don't throw your old coach under the bus and then lament your change of scenery. Don't curse out an opposing player's mom. Don't kiss and tell if the person you're kissing is someone who wants to keep it on the down low. These are just basic life lessons from us, that you're more than welcome to ignore.
But our 2015 wasn't bad, so maybe we know something.