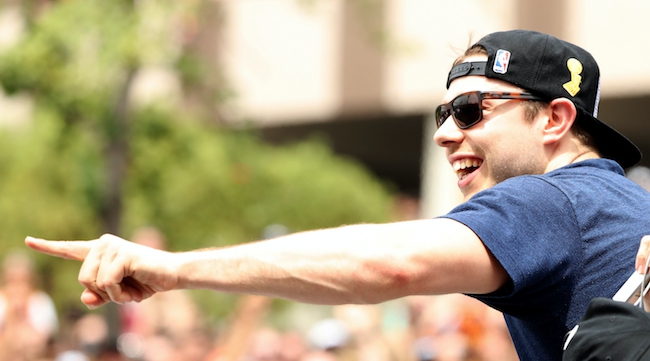 A high tide of money is rising in the NBA, with new TV deals leading to a higher salary cap and a forthcoming series of free agency biddings that will dwarf any summer the league has seen before.
Just ask Matthew Dellavedova. The Australian reserve guard from the Cleveland Cavaliers averaged under eight minutes per game in the NBA Finals, having essentially no impact on the series. Central Division rivals are apparently readying $10 million offer sheets for him, nonetheless. As reported by Brian Windhorst, on the Lowe Post, both the Detroit Pistons and Milwaukee Bucks are prepared to make Dellavedova a member of the eight-figure-income club.
This is less insane than it may seem on its face. Delly gets about 9.4 percent of the $94 million dollar salary cap if he inks such a deal, which is about what Greivis Vasquez — a roughly equal point guard — made, proportion-wise, in 2014 with a $6.5 million deal under a $63 million cap. The main takeaway here, in other words, is that it's the best time it's ever been to be a free agency in the NBA.
Dellevedova would be a particularly good fit in Detroit, where quality point guard minutes were hard to find when Reggie Jackson had to sit in 2015-16 and Steve Blake took the floor. Stay tuned to see where Delly, and others, end up this July.
(h/t Fox Sports)