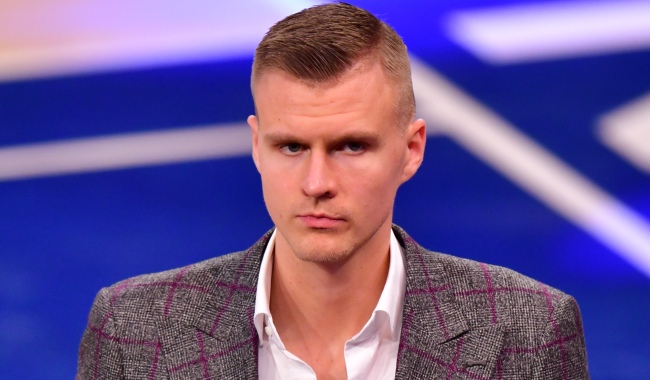 There are plenty of reasons for optimism in Dallas these days. At the NBA Awards on Monday, Luka Doncic ran away with the Rookie of the Year trophy after a stellar first season with the Mavs, and the organization will now hit free agency with the goal of building around their Slovenian wunderkind as their franchise cornerstone.
To be sure, they still have a lot of legwork to do on that front. With Dirk Nowitzki retired, and Wesley Matthews, DeAndre Jordan, and Dennis Smith Jr. all shipped to New York in the Kristaps Porzingis trade earlier this year, their roster is a little top-heavy with talent.
Nevertheless, the first order of business will be to secure Porzingis for the long-term, and the organization has made no secret of their desire to do everything they can on that front. According to the latest report, that will entail offering him a five-year max deal worth upward of $158 million.
Restricted free agent Kristaps Porzingis and the Dallas Mavericks will meet when free agency opens on June 30 and the franchise plans to offer Porzingis a full five-year, $158 million maximum contract, league sources tell @TheAthleticNBA @Stadium.

— Shams Charania (@ShamsCharania) June 25, 2019
Porzingis, for his part, has indicated previously that he's amenable to signing with Dallas on a long-term deal. The Mavs apparently have little concern about his health after he missed all of last season with a torn ACL. Mavs owner Mark Cuban told Dime's Martin Rickman at the NBA Awards red carpet on Monday that they are excited about him teaming up with Doncic next season.
"We've got Luka going into the second year, and getting Kristaps for the first time. We will be better just from that. We've got a young team beyond that, so they'll get better and we'll see what happens in free agency."
Nor was the organization dissuaded by the horrific rape allegations that emerged in recent months, which they were admittedly aware of prior to the trade. Porzingis was also involved an altercation at a Latvian nightclub that left him with a bloodied face, though the front office has expressed confidence that he was the alleged victim of the attack.
If they are in fact able to secure Porzingis, they'll have one of the best young duos in the league for the foreseeable future. The only questions are whether health and/or off-court issues stymie their progress.