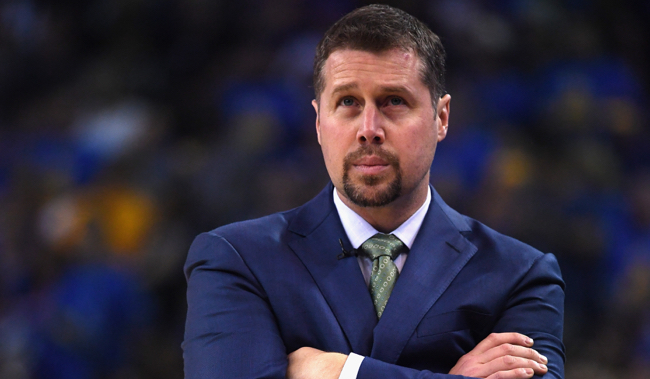 Early Saturday morning The Vertical's Adrian Wojnarowski first reported the Memphis Grizzlies had parted ways with head coach, Dave Joerger. It had been the second time in his three years as the Memphis helmsman he and his agent had asked Memphis management for permission to interview for other head coaching jobs, and so they parted ways.
Memphis has confirmed the firing and general managed Chris Wallace added that "After careful consideration, I concluded that a change was needed to foster the strong culture required to achieve sustainable, long-term success for this organization, the city and our fans."
A source told Woj that Memphis is expected to go after former Pacers coach, Frank Vogel, who was let go earlier this week.
The rationale for the decision might seem odd on the surface, especially considering he's just the fifth coach in 20 seasons to be fired after making the playoffs in every season.
But — as Wojnarowski notes in his longer piece on the subject — it was clear that Joerger, who has another year left on his deal for $2 million, not to mention a team option for the 2017-18 season, wanted a change. Other sources have confirmed that lack of commitment to the franchise, as evidenced by the repeated attempts to interview for other jobs, was the death knell for Joerger finally after he asked for permission again to speak to Houston, Indiana and Sacramento about their job openings.
Not only that, but behind the scenes there had been much aggravation on both sides. Joerger didn't think management was listening to his advice on personnel and the team thought otherwise and couldn't understand why he repeatedly asked to speak to other teams with coaching vacancies.
The former Memphis coach is now the top candidate to take over in Sacramento. We can't help but wonder if he's ready to jump from talented Spanish big man and former Defensive Player of the Year, Marc Gasol, to moody Kings All-Star, DeMarcus Cousins.
Joerger's all-time record in Memphis was 147-99 (.598), and he was 9-13 in the playoffs, including a conference semifinal loss to the eventual champion Warriors in 2015 — a series where they were without Mike Conley at first, but still managed to take a 2-1 lead before dropping their next three. But Joerger really earned respect around the league after leading a medley of role players and bench warmers without Marc Gasol or Mike Conley to a 42-40 record this season and a playoff trip in the West. Yes, they were swept by the Spurs in the first round, but they earned the respect of Gregg Popovich and it was clear Joerger cared very much for his underhanded squad after an emotional post-game press conference.
An emotional Dave Joerger on the veteran leadership of Matt Barnes & Vince Carter…https://t.co/JZpSbCWNly

— NBA TV (@NBATV) April 24, 2016
That's now his last public act as coach.
In a Q&A after news of the firing was announced, Grizzlies general manager Chris Wallace said the firing was his decision, and owner Robert Pera gave his blessing to make the move.
It's clear the decision was a consequence of what happened behind the scenes and Jeerer's abilities on the sideline weren't the cause.
"The decision was made because I believe you need a deeply committed leadership team in order to establish the strong culture needed for sustainable long-term success," Wallace said. "The decision was not about Dave's in-game coaching. Dave did an admirable job managing games. However, being an NBA head coach is about more than just coaching a 48 minute game."
You should go read the entire Q&A. It's a study in front office politicking, but it's clear if you read between the lines of what Wallace is saying and read Wojnarowski's report, that the fissure between the front office and Joerger after his public and private recriminations about personnel decisions — specifically dealing Jeff Green and Courtney Lee away after Marc Gasol went down — led to the termination.
Now Dave is headed to Sacramento or Houston and Frank Vogel is the No. 1 option to replace him in Memphis. We'll see how this plays out over the next few weeks as teams gear up for the Draft next month and free agency soon after that. It'll be hard for the Grizzlies to effectively pitch soon-to-be-free-agent Mike Conley Jr. on their franchise if they haven't secured a long-term deal for Joerger's replacement, so expect Vogel to be announced long before the start of free agency on July 1.
.