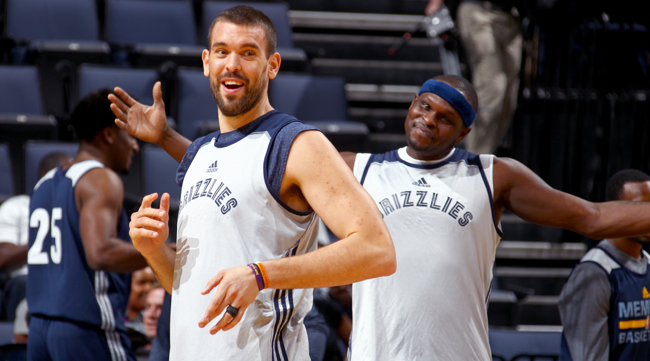 The 2015-16 NBA Season starts soon, preseason hoops are in full swing, and playoff prognostications have begun in earnest. Since season previews can get bogged down by team-specific minutiae, and we cover every basketball team, we're providing our readers reasons why you should care about all 30 teams in the Association.
---
---
They re-signed Marc Gasol, and now they've got two years left with him, Zach Randolph, and Tony Allen, but Mike Conley is a free agent next summer, as are Jeff Green and Courtney Lee. The gritty grind crew won't be around forever, but the max deal for Gasol, particularly the smooth way it transpired — Gasol and agent Arn Tellem didn't even talk to other teams and owner Robert Pera flew to Barcelona to hack it out with them — is a testament to how beloved he is in Memphis. Plus, it sounds like Conley will be around for the long haul as well.
This group is family, and Memphis the city is just an extension of that brotherhood.
The cheer the Memphis crowd gave Marc Gasol at the end of Game 6 against the Warriors in the second round was one of our fondest memories from the 2015 NBA Playoffs. They weren't groveling for him to return, either, but acknowledging his preternatural excellence, which is often hidden from the box score, or even stashed offstage from the ball-watching masses.
But Memphis gets what makes Gasol so special and similarly they love how unique the whole team has become in an NBA riddled with pace-and-space runners. They're a blue-collar group who seems specifically designed in a laboratory for the playoffs. The pace slows, the possessions take on more importance and everyone's thrust into the grind. No wonder it's so hard for opposing teams to get through the grindhouse in the spring. This team will be there again in the spring. Even in a conference that seems to get more difficult every year — the Thunder, Pelicans, Rockets, Clippers and Spurs have all improved — we'll see them in June, even if no one's really watching during the regular season.
Is Matt Barnes really the perfect fit?
What is it about Matt Barnes that seems to make him ideal for these Grizzlies? He's not even their starting small forward — that would be Jeff Green — and seems like the opposite of the no-drama, no-fuss Grizz squad of season's past. But the 12-year vet has played for nine different teams, and underneath all that macho bullsh*t lies a guy who will do the dirty work. There's no other way to explain his existence in the Association.
He found his three-point stroke under Don Nelson in Golden State for the 2007 team that upset the Mavs in the first round, and despite his shooting percentage dipping below 30 percent that next season, he was above 31 percent from then on after never shooting better than 22.7 percent on three-pointers in his first three seasons. The last three seasons in LA, his percentage rose each year until a career high 36.2 percent in 2014-15.
Maybe Doc wanted him gone, but he was key ingredient in LA's first-round upset of the Spurs. (And it was an upset; we can't remember many people, besides this a**hole, who predicted a Clippers win.) He'll be the key for the Grizzlies in April and May of 2016, too, just wait.
Maybe he'll falter a bit in a new situation, but we wouldn't be surprised if Barnes thrived, especially with a low-key environment like Memphis, where he won't get distracted by Rihanna. Maybe it'll go the other way, though.
Maybe Barnes needs the cauldron of discord to thrive. Maybe his pesky defense, clutch shooting from the corners and grade school psych outs only reveal themselves when heated by the embers of chaos. If that's the case, perhaps he'll just chow down on a bunch of BBQ, lose that beanpole figure and fall out of the league.
He stands to make $3.5 million this year before his deal is up, but we think he'll prove himself invaluable once again, but on a team he should've been with all along.
If the injury luck breaks right, they typify a team that can swoop in to take advantage
The Memphis Grizzlies went 56-26 and advanced to the Western Conference Finals in 2013-14. They won 50 games the following year and lost in the first-round of the playoffs after a hard-fought seven games. Last season, Dave Joerger's team had the West's third-best record and fell to the eventual champions in the Conference Semifinals after six injury-riddled contests.
But how close has Memphis actually been to winning a title over the past three years? What would have to happen for Marc Gasol and company to hoist a Larry O'Brien Trophy in June? Could they do it alone? Or would it take broader strokes of direct and indirect fortune than those every champion receives?
The consensus on the Grizzlies in recent seasons has been the latter, and rightfully so. There was a brief time toward the beginning of last year when it appeared Memphis might have taken the next step to a status as first-tier contender. Gasol's newfound aggression and Conley's steady improvement led Memphis to a 37-12 record in early February, the third-best mark in basketball behind the utterly dominant Golden State Warriors and Atlanta Hawks.
Memphis' formula certainly suggested that success could be lasting come spring and early summer. It boasted top-nine marks in both offense and defense at the time, and the trade for Jeff Green just a few weeks prior was supposed to alleviate the team's biggest weakness: a lack of lineup flexibility in the frontcourt.
But the Grizzlies' longstanding struggles plagued them again down the season's stretch run, as their solid offensive output suddenly became below-average. They got better on the other end, though, and made quick work of the Portland Trail Blazers in the first round of the playoffs before facing the Warriors.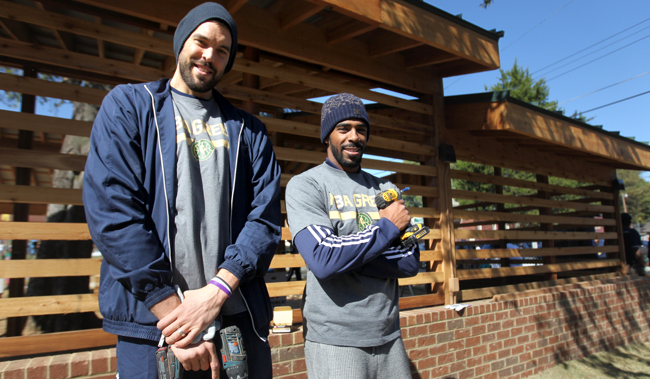 Amid so much talk of the reigning champions getting "lucky" for avoiding the Los Angeles Clippers and San Antonio Spurs en route to an Oakland parade, how quickly the basketball world has forgotten that Golden State was down 2-1 to Memphis – and lost the series' ensuing three games as Tony Allen was limited with or sidelined by a hamstring injury. The Warriors, obviously, deserve all credit in the world for winning a title and exploiting The Grindfather's offensive ineptitude after they fell behind. But the Grizzlies at least warrant more consideration as potential title-winners in 2015-16 for giving Golden State its best fight, right?
We're not sure. And that's totally fine! There are only so many teams in the league buoyed by the sense of belief that comes with a transcendent superstar. LeBron James, Kevin Durant, Stephen Curry, and James Harden are names for a reason; players of their caliber are exceedingly rare.
But Memphis still boasts one of the most well-rounded rosters in basketball, not to mention the game's top two-way center and a point guard capable of elite play on both sides of the ball. If things break their way, this team has the ingredients to win a championship – which is far more than the vast majority of franchises in the league are fortunate enough to say.
Is that circumstance ideal? Of course not. But it's definitely unique, and has the Grizzlies primed to pounce if injury woes befall multiple contenders and the ball bounces their way when it matters most.