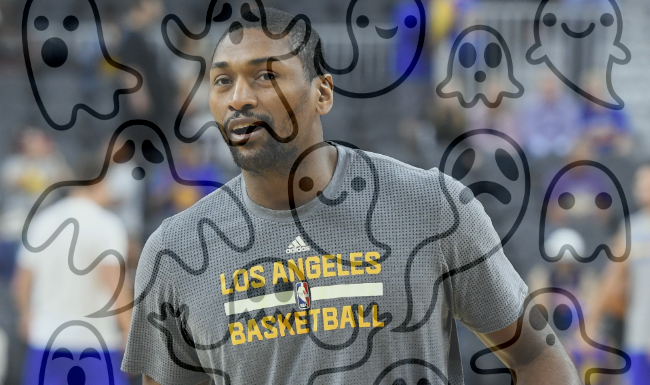 There are no such things as ghosts. It's also not possible to have a sexual interaction with ghosts. Maybe Patrick Swayze and Demi Moore had an erotic moment in Ghost. And yeah, Dan Aykroyd may have received an oral favor from a ghost in Ghostbusters. But in real life? Sorry, that's just not possible.
Metta World Peace of the Los Angeles Lakers, however, would like you to know a ghost touched him inappropriately during a recent stay at the Skirvin Hilton Hotel in Oklahoma City. It is said to be haunted because, according to the OC Register, the owner had sex with a housekeeper and after she became pregnant, she killed herself and the child in a hotel room, which cast a spell on the property. Nothing attracts tourists like tales of baby murder!
These ghosts proved to be a minor inconvenience for Metta.
"The ghosts were all over me. I just accepted it," Lakers forward Metta World Peace said. "They touched me all over the place. I'm taking one of the ghosts to court for touching me in the wrong places."

World Peace insisted he was serious before explaining why he did not stay somewhere else.

"I was watching a good movie and I was tired," said World Peace, who incidentally said he saw "Money Monster." "I didn't want to move."
I really feel for Mark Medina, the writer of this story, because you know he had this idea for a silly story that was related to Halloween and figured Metta would give him a funny quote. Little did Mark know, he was getting a story about Metta being groped while watching a George Clooney/Julia Roberts flick in a hotel. Mark laughed about the "touched me all over the place" thing and Metta was all, "Bro, I'm serious. Also, Wall Street is corrupt."
Some players have opted to stay elsewhere because of bed bugs — a real thing in hotels — but Lou Williams said, "If they say it's haunted, that's enough for me. I'm not going to roll the dice." Smart, Lou. Play it safe. Don't take any risks. The votes of people terrified of ghosts count the same as yours in the upcoming Presidential election. Now that's scary!