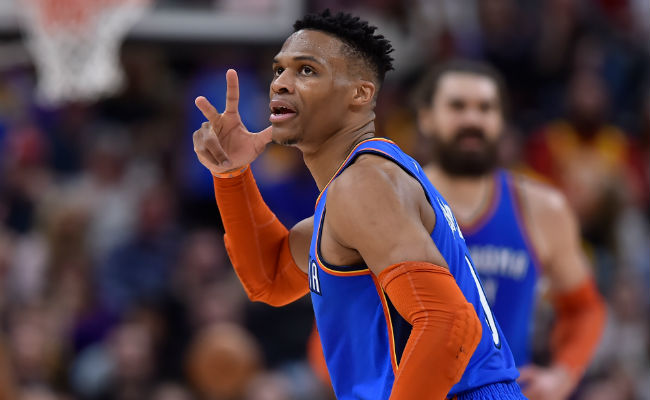 Russell Westbrook is officially on the trade block now as the Thunder have shifted their focus towards a full-scale rebuild after trading Paul George to the Clippers over the weekend.
Westbrook has been with the Thunder for 11 seasons and still has four years remaining on his max contract, but with George gone and their best assets being draft picks, Oklahoma City will try to find a trade to send their long-time star point guard to a new home with a contender (or, at least, a team that's hoping to be a contender). There are a trio of teams that have been rumored to have interest in him, and Westbrook and the Thunder met recently to discuss how to proceed.
The result of that meeting was Oklahoma City listening to offers, and it appears as of now the Miami Heat are the interested team that has the inside track to getting Westbrook. According to ESPN's Adrian Wojnarowski, Westbrook likes the idea of playing in Miami with the newly acquired Jimmy Butler, and the two sides have at least begun a dialogue about a potential deal.

It is important to note this is in the very early stages, but Woj notes in his report that Westbrook and the Thunder would both like to get a deal done "sooner rather than later." That means things could move quickly and it wouldn't be surprising to see a deal done in the not so distant future.
It's not hard to make money work with Miami, who would almost assuredly send back Goran Dragic's expiring in a trade, and Justise Winslow would fit Oklahoma City's new timetable fairly well. The question is what each team sees as Westbrook's value on the trade market at this point, but it is safe to say the return will be far less in terms of assets than what they got for George, for a variety of reasons.
Also given that the relationship between team and player here is as strong as it is with Westbrook and OKC, one would expect the Thunder to try and send him to his preferred destination if possible. That would make Miami the early favorite for his services as they look to vault into the conversation in the East.