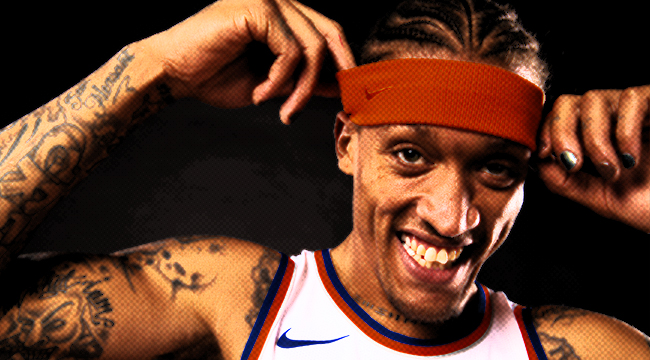 Blue hood pulled tightly over his head, Michael Beasley is dancing in something approximating rhythm with the Air Canada Centre speakers. He slaps hands with a teammate, then throws down a casual one-handed reverse. As he returns beyond the arc, he stumbles into the path of budding superstar Kristaps Porzingis, then calls for a ball and hits an impromptu elbow turnaround against an unsuspecting Willy Hernangomez. Beasley flings a wild scoop shot at the rim, hits a three, stares at his hot hand nodding, and then returns to an almost-in-beat bouncing along with Kardinal Offishall's "Dangerous."
It's warmups ahead of a mid-November game in Toronto, and Beasley has been in and out of Jeff Hornacek's rotation for the New York Knicks. He's unsure if he'll play later, but the playful calm about him should not be mistaken for aloofness or lack of focus. Beasley brings an easy vibe at all times, the Supercool nickname tattooed on his back holding true and good times and in hard. If he plays, he's confident he'll play well. If he doesn't, he has a different role to fill, that of a teammate.
"We winning," he says before the game. "As long as we winning, we good, man. As long as we winning, I'm happy. It's still hard, some nights I play, some nights I don't. Still gotta be ready, still gotta get my work in, still gotta be reliable for my teammates."
Those teammates are watching. This is the youngest Knicks roster since 2011-12, some of the old guard jettisoned for a renewed focus on youth and development. Beasley is not the elder statesman, but he has more experience – in the basketball world and in life – than most. Beasley has followed anything but a typical path in his NBA career, and those experiences are instructive even if he's still growing into the type of teammate who vocalizes their lessons.
"I mean, I've been a veteran for a few years now," Beasley says. "But this is the first or second time I've been one of the oldest guys on a team. A little different, but that's how life works. (I'm) more vocal. Sharing my story a little more than I used to. The ups, the downs, the goods, the ins, the outs. The dos …"
Beasley's eyes shift upward and a smirk comes across his face.
"The don'ts."


Beasley will not reveal the "don'ts" that he shares ("Locker room talk," he explains), but the ones he means are well-publicized and littered the early seasons of his career.
After one dominant season at Kansas State, Beasley enticed enough for the Miami Heat to make him the No. 2 overall selection. Unlike many No. 2 picks, though, Beasley wasn't built around – the Heat already employed Dwyane Wade, and in two years they would angle for Chris Bosh and LeBron James. Beasley was given ample playing time and touches with which to develop, but when The Big Three opportunity presented itself, Beasley was flipped to Minnesota to clear cap space.
The Timberwolves invested the remaining two years of his rookie contract in him, but his development stalled. That summer, he signed with the Phoenix Suns on a three-year deal that saw him waived one year in following his arrest for suspicion of marijuana possession, citing "the standards to build a championship culture." The Heat possessed such a culture before and after Beasley, and the held-over respect from Wade saw the Heat take another chance on him, giving Beasley the experience of a run to the NBA Finals.
Then 25, Beasley found his NBA market cool, was waived by the Memphis Grizzlies after attending training camp on a non-guaranteed deal and found his way to the Chinese Basketball Association. Beasley dominated there, showing off his trademark scoring ability in a ridiculous-volume sample, and he'd make two All-Star teams and win a Foreign MVP award in his two seasons there. In between China stints, the Heat brought him back in again, first on a pair of 10-day contracts and then for the remainder of the 2014-15 season, their first post-LeBron. Following his second stint in China, the Houston Rockets called, signing him for the remainder of 2015-16.
https://streamable.com/49bir
Beasley has finally found some NBA stability once again in the time since.
The Milwaukee Bucks acquired him and kept him on the roster as an unsuspected veteran hand all year, turning to him for a scoring spark a few times in the playoffs. This summer, the Knicks gave him a full guarantee for the 2017-18 season, his 10th in the NBA. Now 28, Beasley has played every role; he's been a highly touted pick, he's dealt with off-court issues, he's scrapped overseas to save his career, and he's played the 10-day game trying to gain a foothold.
"Naw, my journey don't matter," Beasley says. "I don't think about it. NBA or not, I know who I am. I know what I was put on this earth to do. I know what I was put on this court to do. So my playing, me not playing, me in the NBA, or not in the NBA, my mindset has never changed."
It does matter. It's shaped Beasley to this point, readying him for yet another new role. This latest role, that of a veteran leader on a young team, is his unlikeliest yet. It's also one he appears to be well-suited for, his young Knicks teammates raving about the example he sets and the way he keeps the locker room loose, an important consideration for a young team off to a great start that will inevitably hit a rough patch.
Tense stretches are broken up by Beasley wise-cracks, plays both good and bad on the court are met by a running commentary from Beasley on the bench, and there's rarely a day that Beasley' isn't spouting positivity or encouragement. He famously refers to himself as a Walking Bucket (or "W.B."), and that's a nickname he'll throw at Doug McDermott to pump the shooter's tires when he needs a reminder. Rookie Damyean Dotson, who works out with Beasley one-on-one before every game, can't seem to beat him into the gym on practice days. Neither was surprised despite Beasley's outdated reputation.
"He kinda had a little bad rep," McDermott says. "But honestly, I heard from a lot of people in the league how good of a teammate he was before I even got here. So I knew what to expect: He's always positive, he comes to work every day, can make anyone laugh at any time. It's always good to have a guy like that in the locker room. I really like him as a teammate. He's been really good for us."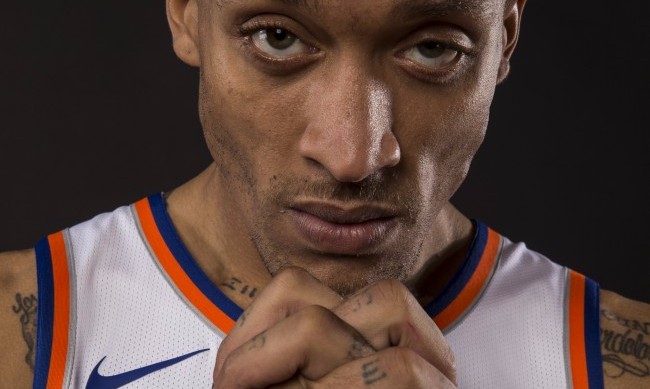 Through his entire journey, Beasley has remained confident. Beyond confident, even. He possesses the kind of confidence to own a 26.8-percent career usage rate despite never being a team's featured scorer, to experiment in with bold fashion choices (including dual wristwatches), to believe he uses more of his brain than the average human, to put himself on the level of LeBron James and Kevin Durant or left-side Carmelo Anthony, and to call himself "your favorite player's favorite player." That confidence is infectious.
"His confidence definitely leads over to other guys being confident," Dotson says. "Just talking trash. Most guys talk trash all the time but he's funny. He keeps the bench going, he keeps me laughing. His energy and his confidence, he brings it every day, and it affects all the guys."
Between Beasley's career path, his life path, and his natural growth as a person and player, it makes sense that the team's young players have found a reassuring presence in him, even if that would have seemed unlikely a few years back. If anyone can speak to Beasley's growth, it's probably Lance Thomas, who's known and played with Beasley since their early teenage years.
"I think this is the next step for him in maturing," Thomas says. "I just see a completely different human being, let alone a player. I just see that he's approaching everything differently, and maturing, and knowing him for such a long time and seeing how he is now, it's impressive."


Beasley is disinterested in talking about this part of his role, saying he doesn't think much about leadership and just does what he does, though he's happy to hear his teammates take something from his influence. And it's clear he's committed to being a good teammate. The Knicks would go on to lose to the Raptors, and Beasley wouldn't play until the game seemed mostly out of hand.
Afterward, a reporter asked him multiple questions about his playing time, plainly looking for a negative or controversial response, and Beasley would only (eventually) acquiesce that even stars wish they were playing more.
Instead of commenting, he did what he always does to set an example: He stayed ready, scoring 10 points with six rebounds in the fourth quarter, and firing up seven shots in short order, his inconsistent usage not at all detracting from his belief they'd go in.
"It's confidence, man," he says. "If you don't believe in yourself, nobody else will."