Few players have been as frustrating to analyze over the past two years as Michael Carter-Williams. After an incredible start, including a stunning first game in which he put up 22 points, 12 assists, seven rebounds and nine steals, leading the lowly Sixers to an unlikely victory over the defending champion Miami Heat, MCW looked unstoppable. At that moment, it was hard not to wonder if he was going to become a superstar.
In the time since then, things have changed dramatically. As MCW's rookie season went along, the inherent flaws in his game became all-too apparent. Mainly, he's the worst shooting point guard not named Ricky Rubio in the NBA, and while his raw stats looked impressive, a lot of that was because the Sixers simply had no one else to turn to, and, well, someone had to score. MCW was forced into being a first option, and without any players to mentor him, he took bad shots, developed bad habits, and the worst aspects of his game were brought to the forefront.
Upon being traded to the Bucks at the deadline last season, things did look up. MCW's field goal percentage increased considerably, as he shot .429 with the Bucks compared to .380 with the Sixers. Undoubtedly, this was a consequence of not having to carry an offense anymore. With quality scorers like Khris Middleton and Ersan Ilyasova flanking him, MCW was no longer forcing up terrible shots because his team lacked better better offensive options. His woeful range remains a problem, as he managed to shoot even worse on threes in Milwaukee, but after becoming a Buck, MCW started taking smarter shots, most likely for the simple reason that he finally had the opportunity to do so. Now, we'll see what happens to his game after spending time working with Bucks staff, and head coach Jason Kidd, in particular.

It's hard to think of a better mentor for MCW than Kidd, who became one of the best point guards of all-time, despite being a notoriously weak jump-shooter (although his three-ball did improve later in his career). Obviously, MCW is never going to be Jason Kidd, but he's in a system where his skill set can be developed and the greatest flaws in his game will no longer be exacerbated. MCW has already played within the Bucks' system a fair amount going into 2015-16. It's hard for a player to dramatically change his game right in the middle of a season, though, so his first full campaign with the Bucks should be fascinating to watch.
Right now, MCW's biggest concern should probably be the acquisition of Greivis Vasquez, who will certainly compete with him for minutes at point guard. Vasquez isn't exactly a sharp-shooter, either, and he's often struggled to keep his field goal percentage over .400. With that said, he certainly has more range than MCW, who has been a horror show in that regard during his first three years in the league. Vasquez has also proven himself to be an adept passer, particularly in his 2012-13 season with New Orleans, where he averaged nine assists per game. Vasquez is far from a perfect player, but he succeeds in some of the areas where MCW has struggled. If MCW starts slow, it's not impossible to believe Vasquez could eventually take his place in the starting lineup.
One of the big questions facing the Bucks this year is whether or not they will be able to space the ball with Carter-Williams on the floor. There's a decent case to be made that this won't be a huge problem. There's been a lot of hype over Giannis Antetokounmpo adding a three-point shot to his game this season, which would be, for lack of a better term, huge. Middleton has shot an impressive .403 from downtown for his career, making him a viable and proven long-range threat. In 25 games last season, Jabari Parker made four the the 16 three-pointers he attempted. With that said, Parker is a fine jump-shooter, and could certainly develop from beyond the arc. Ultimately, MCW's compatibility with the Bucks' starting five will depend on how much range Parker and Antetokounmpo develop.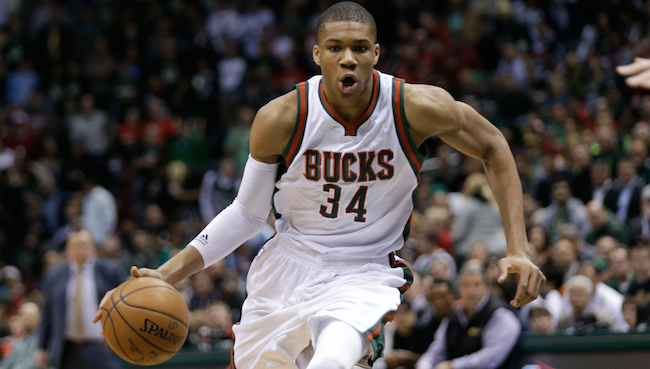 In Philadelphia, MCW was briefly miscast as a savior based on his hot start, and then cast aside when Sam Hinkie decided he wasn't the potential superstar the Sixers needed to catapult them to contention – a fair assessment. In Milwaukee, the expectations are different. No one is expecting Carter-Williams to be the essential piece in the team's transformation to a title contender. No, that would be Parker, or Antetokounmpo, and, to a certain extent, Middleton.
But while MCW no longer faces the immense burden of expectations he did in Philadelphia, he's still going to be expected to do a solid floor general at the very least. His improved field goal percentage in his small time with the Bucks is a promising sign of coming development, and having an entire offseason to work on his game with Kidd suggests a bright future, too.
This is a crucial year for Carter-Williams. It's the moment where we'll figure out if he's really a quality NBA starting point guard, or if he's a flash-in-pan whose perceived success in Philly was simply the result of producing empty statistics on a bad team. For the sake of the NBA, and the long-suffering Bucks fans who finally have a team to be excited for, let's hope it's the former.