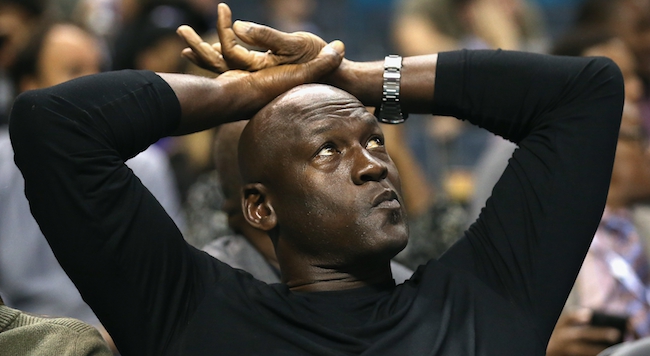 Violence erupted in downtown Charlotte Wednesday night as hundreds of protestors walked the streets to condemn the death of Keith Lamont Scott, another black man killed by police. According to WSOC-TV, nine civilians and five officers were injured during the demonstrations.
On Thursday afternoon, Charlotte Hornets president Michael Jordan issued a statement calling for peace amid the chaos.
"First, I want to express my condolences to the Scott family for their loss. I also wish for a full recovery to those who have been injured.

"In light of the tragic events of the past three days, it is more important than ever that we restore calm and come together, as a community, in peaceful demonstration and conversation, and in constructive and non-violent ways. As part of the fabric of Charlotte, the Hornets organization is committed to working with civic leaders, our elected leaders and law enforcement to foster more trust, transparency and understanding so we can heal and grow together as a community."
Jordan, who famously opted against voicing his opinion during times of social and political strife throughout his playing career, also offered his take on the league pulling the 2017 All-Star Game from Charlotte due to recently-passed anti-LGBTQ legislation.
Scott's family and law enforcement have portrayed his death in starkly different terms since the incident in question occurred on Tuesday afternoon. Relatives maintain the late father, husband, and brother was unarmed and reading a book in his car when he was approached by officers, while police chief Kerr Putney insists that Scott exited his vehicle with a gun and was shot after refusing to drop it.
On Thursday, Putney told reporters that his department would not be making video of the shooting public.
(Hornets)