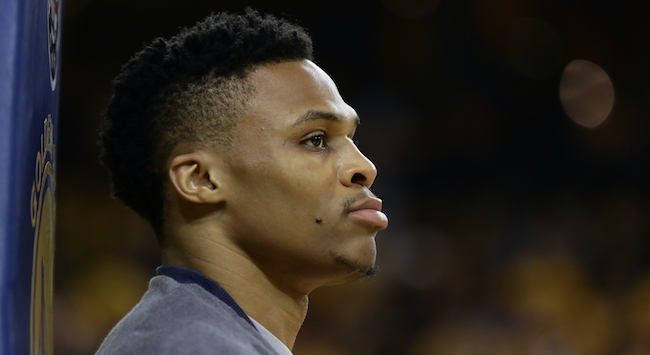 Russell Westbrook finds himself at the center of the NBA universe right now. He's signed an extension with the Oklahoma City Thunder, which is expiring much love from the city, and his relationship with Kevin Durant has gotten a lot of play this summer. Now, Westbrook has found himself compared to Michael Jordan. What makes this so special? It was Jordan himself making the comparison.
During a film to promote the new Air Jordan XXXIs, of which Westbrook is the primary endorser, Jordan told Complex's Russ Bengston the following about the Thunder's lone superstar :
"Thirty years ago, that's me. The attitude, trying to prove myself, showing so much passion for the game of basketball. You see it in his play. You can tell he loves the game, he plays with energy and flair."
Naturally, Westbrook was excited to hear what Jordan had to say.
"That's crazy," he said, "I really don't know what to say. To have the best player who ever played the game to say that about you as a player and as a person is something that is going to keep me striving."
Of course, Jordan wasn't saying that Westbrook is as good as he was. He's really just saying that Westbrook plays the game with the same passion that he did. However, it's still Michael Jordan comparing Westbrook favorably to himself. That's got to be cool for Westbrook. Maybe even cooler than getting thanked by a building.
(Via Complex)