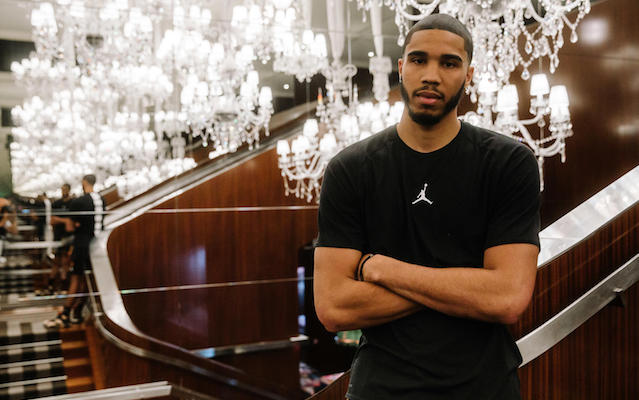 After being the face of Nike's Adapt BB sneaker for much of the 2018-2019, Jayson Tatum will now become one of the most prominent members of Jordan Brand, the Michael Jordan led subsidiary of Nike.
Tatum, who is headed into his third year as a member of the Boston Celtics, was announced as the most recent signee to Jordan Brand by MJ himself during an event in Paris on Friday.
In attendance for the announcement were some of the brand's biggest signature athletes, like Russell Westbrook, Blake Griffin, Kemba Walker and Maya Moore.
Tatum's shoe deal with Air Jordan is a multi-year one, per ESPN's Nick DePaula. It remains to be seen whether Tatum will be on track for his own signature shoe. Jordan Brand also announced the signing of Japanese-born rookie Rui Hachimura, who was selected No. 9 overall by the Washington Wizards on Thursday night.
"In just two seasons, Jayson has established himself as one of the league's most promising young players, with a work ethic and mindset that reflects what Jordan Brand stands for," Jordan Brand president Craig Williams said in a press release. "Rui is already making history on the court, and in the process, he's become a hero to an entire country. What's most impressive to me about these two young men isn't their remarkable talent, but the strong character and maturity they carry themselves with on and off the court."
Tatum and the Celtics face some uncertainty going into the offseason as both Al Horford and Kyrie Irving are set to hit free agency, which could change the complexion of the team as they look toward the future.