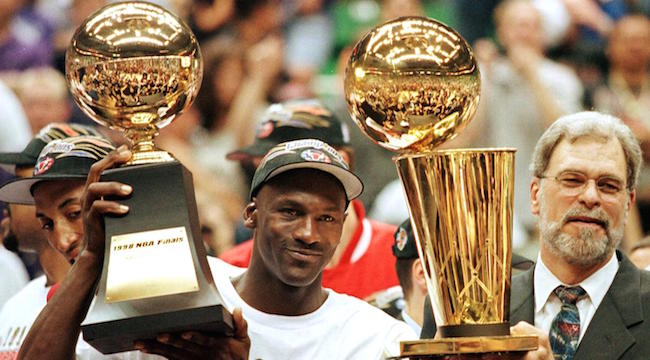 One common refrain throughout LeBron James' career from detractors has been that he has taken the easy road to his three NBA titles.
He left Cleveland for Miami to join forces with Chris Bosh and Dwyane Wade. He's done his winning in the Eastern Conference, which has lacked another top contender to push his Heat and Cavs teams in ways Western Conference teams have battled in recent years. Most recently, it's been that he's asking for more help on a team that has the league's highest luxury tax bill.
Charles Barkley has decried James for being a whiner, eliciting an angry response from James. Fans and media have prodded at James, with their favorite game, comparing his actions to those of Michael Jordan. Former Bulls GM Jerry Krause went on The Vertical podcast with Adrian Wojnarowski on Monday and stirred the pot more by saying Jordan never came to him to request a trade or a player in the draft.
It's a favorite line from people no longer in the NBA. These young players just want everything handed to them and don't work as hard as they did back in the day.
However, Krause's comments go against a story from Sam Smith's book "The Jordan Rules" (via an excerpt published in the Oklahoman), that details Jordan pushing for the Bulls to make a trade in 1990 over frustrations with Bill Cartwright.
Jordan liked to belittle Cartwright in the locker room. He'd imitate Cartwright's unorthodox shooting style with wild exaggerated moves that left many of his teammates trying to stifle laughter when Cartwright was nearby. Cartwright would just look away and blame immaturity.

But Jordan went one step too far that first season. He was angry over the Bulls' slow start and had already gone to Jerry Krause during the Western trip in November to ask that he make some trades.
"I need help," he told Krause. Krause explained the Bulls had salary cap problems, which Jordan neither understood nor cared to hear about. So he made some decisions. One was that he would have to do just that much more himself. And to do that, he couldn't have Cartwright fouling things up, especially late in the game.
It's Smith got the story wrong, but that seems unlikely. Or Krause forgot this story while on the podcast with Woj, I mean, it was more than 25 years ago. Either way, something is amiss here.
Maybe we should stop worrying about whether LeBron is going about things the same way Jordan did, and people should definitely stop speaking in absolutes about what Jordan did or didn't do when there's evidence to the contrary easily found on the internet.