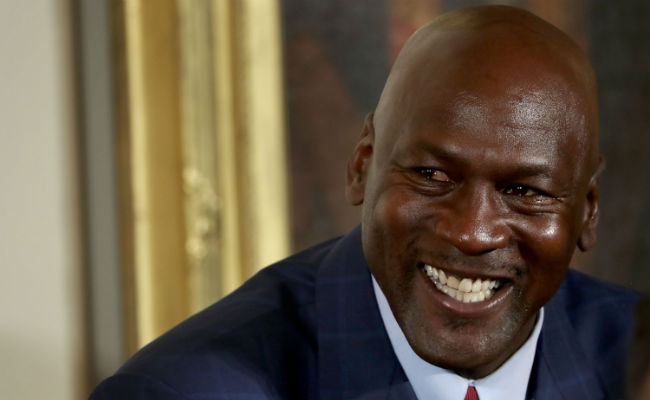 LaVar Ball has had his fun. He's called out Michael Jordan, ran his mouth at all possible times, and generally given people lots to talk about. But talk enough and people will notice. Shaq will write a diss track and include your name. on ESPN. Kids will even ask Michael Jordan questions about what Ball has said, and Jordan won't hold back when he responds.
Jordan hosted a Q&A session at his Michael Jordan Flight School when someone in the crowd asked about "LaVar Ball and his kids." In the past, Ball has said that he could beat Jordan 1-on-1, among other things. Ball's on-court ability tends to suggest otherwise, and it's obviously just talk for talk's sake, but Jordan was asked and he had prepared for this question and was ready to respond.

https://www.instagram.com/p/BXQgRvcgCya/?taken-by=uproxx_sports&hl=en
Ball pointed out that LaVar is very proud of his kids, as any father would be, and said he thinks Lonzo Ball is going to be a good player. But he also thinks that Ball talks too much and should take a step back.
"I think his father is very proud of all his kids. Like any father would be very proud of their kids. But I would say if I had to sit down and talk to him right now, if you guys weren't here. I'd tell him to shut up and let the kids play."
Ball has made headlines for pulling his team off the court after a technical foul and insisting a referee get replaced at an adidas event. Clearly, Jordan doesn't think that kind of thing shouldn't fly.
Later on, someone asked specifically about Ball's claims that he could beat Jordan playing 1-on-1. Jordan said again, because he was asked, that he had to respond, roasting Ball's basketball career where he averaged two points per game in college.

"I don't think he could beat me if I was one-legged," Jordan said as the crowd cheered.
This was far from a vicious attack from Jordan, and though it will get a response from Ball that wasn't the point. Jordan said he appreciates Ball's pride and enthusiasm for his kids. But one of the most media-savvy NBA players in history can see through what Ball is doing here. And he thinks it's distracting Ball's kids, and his players, from what's important: playing the game.