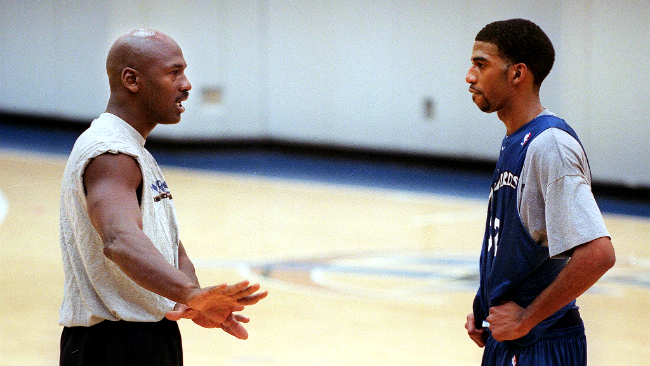 We are literally always here for stories about Michael Jordan we haven't heard before, and Richard Hamilton, appearing on ESPN's The Jump, gave us a fresh anecdote that we felt needed to be shared. By the time MJ was teammates with a young Hamilton on the Washington Wizards, he was already a major shoe mogul with his Air Jordans. Young Rip wanted him a pair of those shoes, but Jordan came back with some savagery.
Me and a couple of the young guys would come up to him and say, "Hey Mike, what you think about putting us in the [Jordan Brand] collection? And he'd look at me and say, 'Hey, Rip — my sneaker's for All-Stars."
That is some cold-ass reality to lay down on a rookie who looks up to you, but we wouldn't expect anything less from the greatest.
https://www.youtube.com/watch?v=3F6IEubRSc8
UPROXX spoke with Rip way back when, and he had this to say about his relationship with MJ, which wasn't all cold:
Michael was like the teacher, and I was like the student. Me, Courtney Alexander and Laron Profit at the point guard position. I just remember playing against Michael. He'd come down, take two dribbles on the right and pull up. He used to say to me, "Rip, get that into your game. Add that. That's the hardest play to guard. Anytime you can make a 15-20 footer, two hard dribbles to the left or right, that's the hardest move in the game to guard." People used to come up to me and say, "Rip you have the best medium range game in the league. Where'd you get it from?" Anytime you have the opportunity to play with a great player, it can't be taught, you can only experience it when you're actually experiencing it and talking to it and things like that.
As Michael Jordan's career fades farther into memory, it will be less and less common for people to remember that after he retired from the Bulls a second time, he returned a couple of years later for some pretty-good-not-great seasons with the Wizards. But until that happens, we'll be just as delighted by stories of over-the-hill MJ being ornery as we are by jaw-dropping anecdotes about his athletic peak.
(h/t SLAM)