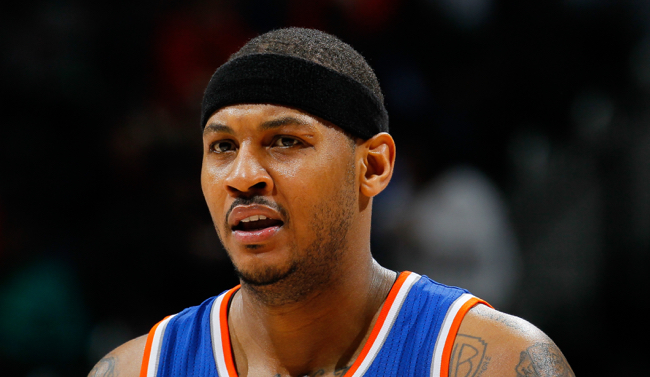 The executive director of the NBA Players Association has already weighed in on Phil Jackson saying New York Knicks guard Carmelo Anthony is "better off somewhere else." Turns out she had a lot more to say on the topic.
Executive director Michele Roberts complained about Jackson's "inappropriate comments" on Anthony back in April, but she elaborated to The Vertical about the New York Knicks president's behavior regarding the team's best player.
"I think Phil was deliberately trying to shame 'Melo out of the city," she told The Vertical, later saying the league is unlikely to sanction Jackson for his comments, something she "would have bet my paycheck on" at season's end.
The comments set up an interesting dynamic in the NBA, one that worries the players she represents. Roberts said players are "unhappy" that the NBA hasn't responded to Jackson's sabotage of Carmelo to the press.
"Our players understand that they can privately complain about how a team is managed but they cannot do it publicly without being subject to sanction," she said. "But it has to work both ways. If Phil tells 'Melo in private that being in New York is not a good fit for him, that's his right. But these comments were made in public, and it's very disturbing because Phil gave him the no-trade clause and he has to respect it. He's got to allow a player to make a decision for any reason – to win a ring, for money, home life, whatever."
Anthony, vice president of the player's association executive committee, has had a tumultuous year in New York that's only compounded by going through a very public divorce. Roberts said she had sympathy for him but hasn't been involved in sorting out where he plays next fall.
"I feel for 'Melo, this is a tough time for him and I can only imagine how he's feeling," she said. "I know he has been talking to some other people so I'll let him sort it all out."