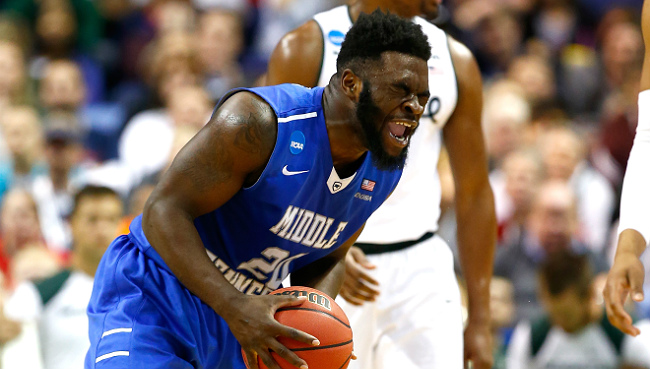 Prior to Friday, there had been only seven 15 seeds which scored victories over two seeds in the NCAA Tournament. Now, there are eight.
Middle Tennessee State, champions out of Conference USA in 2016, pulled off one of the biggest upsets in the history of the big dance on Friday afternoon when the 15th-seeded Blue Raiders knocked off second-seeded Michigan State by the final score of 90 to 81.
Kermit Davis' team was led by Robert Upshaw, who scored 21 points on the day. The Blue Raiders also managed to hit 11 of their 19 three-pointers on the day en route to their shocking upset win.
Along with their ability to hit from deep, Middle Tennessee State didn't fold when Michigan State made their inevitable comeback in the second half, answering every Spartans run with a highlight play like this pretty reverse layup from Jaqwan Raymond.
With under a minute to play, and Middle Tennessee State up five, the Blue Raiders sealed their upset win with this emphatic and-one dunk from Upshaw.
You could certainly make the argument that Middle Tennessee State's win was the biggest first round upset in NCAA Tournament history. There was much controversy about Tom Izzo's club not getting a one seed on Selection Sunday, but Michigan State was still the overall favorite to win the whole tournament according to Vegas. Furthermore, Michigan State was ranked third in the heralded KenPom rankings heading into the tournament while Middle Tennessee State was ranked just 123rd in the country.
The most recent 15 over a two before Friday was when Florida Gulf Coast knocked off Georgetown back in 2013. "Dunk City" would also beat San Diego State that year becoming the first 15 seed ever to make it to the Sweet 16. Middle Tennessee State will have the opportunity to become the second, when they face off against Syracuse on Sunday.