Mike Breen took over as the play-by-play voice of the NBA Finals for the ESPN on ABC in 2006, meaning Thursday night at 9 p.m. ET in Oakland he will be on the call for his 12th consecutive Finals. Joining Breen on the call will be his long-time broadcast cohorts Jeff Van Gundy and Mark Jackson, with Doris Burke working the sidelines.
For the third straight year, Breen and company will be calling a series between the Cavaliers and Warriors as the two teams make history as the first teams to meet in three consecutive NBA Finals. There has been much debate about whether the dominance of the two squads in their respective conferences is good or bad for the NBA. With Van Gundy and Jackson, two who are never afraid to let their strong opinions be heard, that will undoubtedly be a topic of conversation on the broadcast.
Ahead of Thursday night's Game 1, Breen spoke with DIME Magazine about that issue, and why he is on the side that believes it's great for the league, as well as discussing what it's like watching the Warriors demoralize teams, LeBron James' longevity, teeing up Van Gundy and Jackson for rants, his favorite suits from Knicks broadcast partner Clyde Frazier, and favorite NBA Finals moments that he's been on the call for.

Having called both of their previous meetings, what are your thoughts on Cavs-Warriors III and what differences do you see in this matchup compared to the last two Finals meetings?
Its an historic matchup because it's never happened, and by the way the first two meetings went the results and the various storylines to them, it's to me one of the most anticipated Finals ever. I remember watching the Lakers and the Celtics in the mid-80s and when my favorite team was knocked out of the playoffs — in that case, the Knicks — that's who I wanted to watch. To me, the reason was because not only were they these two great teams with iconic players, but it was the best rivalry. The only way you get true rivalries is through multiple meetings and those teams, although they had tremendous respect for each other, they also had a great, healthy competitive disdain for each other.
And that's the case with the Warriors and the Cavaliers. There's tremendous respect, but the way things have gone, there's also that great, healthy competitive disdain, and I think that's what makes such a compelling matchup.
As for the changes, there's obviously a lot of the same players that played in both of the Finals, but the added players also makes it a little spicier. Obviously Kevin Durant, his presence has an enormous impact, but so does someone like David West and JaVale McGee for Golden State. Then you look at Cleveland and basically a lot of the team is the same, but their bench is much improved with like Deron Williams and Kyle Korver. So all that just adds, just makes the whole matchup more interesting in my opinion.
The constant debate this playoffs is if Warriors-Cavs is good for the league or bad for the league. Your thoughts on whether the league needs parity — although that's never really been the case — or at least more competitive second tier considering how inevitable it all felt that these teams would meet this year?
While I fully understand the frustrations of the fans of the teams of not being competitive the first few rounds, I think it's great for the league. These are two teams that are playing at an incredible level. If you love basketball, how do you not love the way that these teams execute and perform night in and night out. The other teams, is it hard? Is it frustrating? Sure, but, you know what, you gotta figure out a way to be competitive.
The other thing you look at too. You look at the last seven NBA champions, there have been six different teams to win championships. So it's not like one team has just dominated winning the title. Now, certainly the best teams are advancing more and this year it was a little more striking because of all the sweeps, but if you go back to the heyday of the NBA with the Lakers and the Celtics, it's great to see these great teams with the premier players and elite players in the league competing for the title. Now it's up to the rest of the league to figure out how to catch them.
I also think one of the great things in sports that we always root for is the huge upset. The David and Goliath, and I think a lot of people tune in for that. Think about it, a lot of time when you have a rooting interest in a game, how often do you root for a team to win and how often do you root for a team to lose. I know as a sports fan there are teams I don't like in various sports, so I root for them to lose, especially if they're an elite team. So I think that's part of the fun of being a sports fan is watching somebody topple the great team. Obviously nobody's been able to do it with these two teams this year, but I know a lot of people were hoping for it and always thinking it could happen and that's the beauty of sports.


And, especially with the Warriors and particularly some of the characters they have — namely Draymond — that play into that villain role maybe better than Cleveland does, which helps that kind of animosity that others have in wanting to watch them. They build that from within and how fans can root for the villains to go down, which can breed more intrigue as people go, "well, they probably won't lose, but what if they do?"
Right, and look at what LeBron went through when he went from Cleveland to Miami that first year. I don't ever remember so many fans rooting for the opposing team. So many people wanted Dallas to win that first year, and they did. Because LeBron was the villain at that time. Now, because of his extraordinary play and his excellence year after year, he's been able to turn that narrative around. He's gone from the No. 1 villain in the NBA to the underdog in this series. People are rooting for him. It changes, obviously, but it's a big part of fan interest.
You were on the Western Conference Finals and have seen this Warriors team plenty of times this season. When you're courtside and watching what they can do when they get rolling, have you ever seen a team that possesses that kind of firepower on both ends of the floor? Because they're not a team that just gets hot on the offensive end of the floor, they seem to get hot on defense in a way. When Draymond gets a block or two he seems to — I can't remember seeing a team that on both ends of the team seems to be able to go on hot streaks.
That's a great point, and I think it's true. When you notice it the most when you're sitting courtside is how demoralizing their runs are to the opponent. There are times when you're watching them play — and it's not only can you not stop them but you have trouble getting into your offense when they're swarming defensively — teams look so beaten when they're on the court against them. It's like, 'There's nothing we can do. We have no shot.' And you don't see that very often in the NBA, but you do see it sometimes when the Warriors go on one of those 16-0 runs in about two and a half minutes. It is so demoralizing for the opponent.
On the broadcast, when you end up in a 7-game series between the same two teams, how do you keep the anecdotes and the stories fresh and dig deep enough into those teams to have things to discuss and fill time when needed for potentially seven broadcasts of the same two teams?
As you say, we've seen both teams so many times already, you've done your research and you have stories for just about everybody and you just wait for the right opportunity. The game has to come first. It always has to be about the game. So, you might have a great story about a guy, but if he gets three fouls in the first quarter and only plays five minutes in the half, you're not going to jam that story in because he doesn't have an impact on the game.
So what you do is you let the game dictate what stories you tell. For example, if Patrick McCaw — if someone gets in foul trouble and he has a big game — well then that's a great opportunity to tell a story about Patrick McCaw with the anecdotes and personal details. And that's how you try to do it. You balance it, you don't want to overdo it — again the game has to come first — but you let who's having an impact dictate where you're going to go with the anecdotes.

With ESPN you have the three-man booth (with Jeff Van Gundy and Mark Jackson) and at MSG you have a two-man booth (with Clyde Frazier), what's the difference in the dynamic of having the extra person on the broadcast as the play-by-play guy and how do you run point to balance everyone having their voice in and keep it from getting cluttered?
Well, you simply talk less, which is OK because what those guys have to say is so good and their banter together is so good, and it's a process. This is, for Jeff, our 11th Finals together, with Jeff, Mark, and Doris it's our eighth Finals together, so over time you just get a good feel for each person. And ESPN's been so wonderful to keep us together that you get to develop that chemistry. But I've known all of them for about 25 years, and that helps, and the other key for Jeff and Mark is there's no ego there.
They aren't competing for airtime, they aren't competing for analysis, they have just a great working relationship along with being great friends that it makes it so easy. They know when it's time to have some fun and when it's time to analyze. They know when to back off a little bit and let the game breathe. You have a producer in the truck that monitors all that and, it sounds cliche, but it really is a team effort of everyone working together.
Having known both of them for as long as you have from Knicks days to now, they are both guys that are passionate about the things they want to talk about. Does it help to know them that well and tee them up or wind them up when you know there's a topic that they have strong feelings on and let them go?
Yeah, it's the most underrated part of our business. The chemistry and relationship with the person on the air. That's not to say it can't work if your on-air partner is just a business associate, which happens sometimes, but when you work together for so long and you travel together and you go out together, you get to build relationships and friendships that are the best part about the business. And it really does help on the air. I know a lot of what Mark and Jeff feel about certain issues — both basketball and not basketball.
You know, when you go out to dinner the night before and you sit at dinner and talk about different things, it's easy the next day to bring it up on the air because you discussed it off the air the night before. So it really is an unbelievable benefit when you get to work with people that you've known for so long.
When you find yourself on a game like Warriors-Spurs earlier this year where everyone was resting, was that a situation where you know that is going to be the important topic to tackle, possibly over the game action, and you can let Mark and Jeff go and air out their thoughts on that?
Oh sure. Their opinions were so strong on that. Sometimes it's funny, you have these blowout games that you walk away from saying, "Wow, that was a really good telecast." And that was one of them because of how strong they were with their opinions about it and their thoughts about how it has to change and the league has to do something. So, sometimes those telecasts are just as rewarding.
Those two, they're so unafraid to give their opinion on anything. And for me, I can ask them anything and I can ask them live without checking with them first, and they'll have an intelligent answer. It really is, those two guys are a play-by-play guys dream in terms of being able to bring up any topic, any time.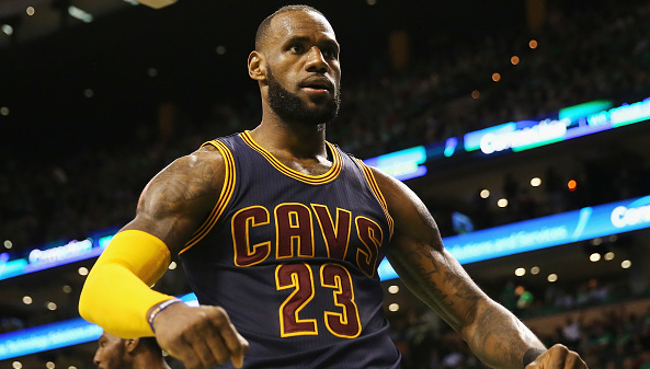 How many Finals is this now with LeBron James playing? Is it all eight now?
Yes, I've done all of his Finals. His first one was in '07, which was my second Finals, so yeah I've done all of them.
You're kind of the perfect person to ask this then having seen his full career progression as a playoff player. What have you noticed in things that he's changed in the way he handles or approaches the Finals and just appreciating what he's done for such a long, sustained run?
Well, it's been such a privilege to watch one of the greatest players of all-time and who will be in the conversation of being the greatest of all-time and watching him evolve. When he had his first appearance in the Finals in '07, it wasn't a matter of will he win the title — even though he got swept — it was a question of how many titles will he win. And, he was such a popular player back then and then when he moved to Miami to see him become this villain was stunning on how quickly people turned on him and wanted him to lose like I spoke about earlier.
And then because of his approach to the game and his sustained excellence, how he was able to turn that narrative around from being the No. 1 villain in the NBA — and he was that one year — to now being a beloved player. And there will be some people that will never be satisfied with what he does, but he turned it around with just his extraordinary talent. And I've always felt that the big plus for him with the fans was that it was always team first and about winning.
He didn't care if he scored 45 or if he had 15, it was whatever he needed to do. He always approached the game with making the right play every time. If that was a pass to his teammate in crunch time, he would do that. If that was taking over offensively and scoring 40, he did that. If that was defending the opponent's best player, he did that. And I think that's what's been fun to watch is how he's been able to go through the highs and the lows with this incredible spotlight on him at all times and still perform in his 14th year.
Do you remember when "Bang" became your signature call for a big shot?
You know what, I don't remember the exact time. I remember I used it sparingly when I started, and I kinda liked the way it sounded from a standpoint of when the game is at its peak in terms of intensity and you have to have an excited call for a big shot, I've always, my theory has been the fewer syllables the better. Because you can't keep your voice at a really high level for a long period of time — it's a really hard thing to do.
Others with stronger voices than I might be able to, but for me it was hard to do. Bang is a one-syllable word, where you hit the big shot, you say it and can get out quickly. Because I think in big moments like that it's important to let the crowd and the emotions be a part of those moments as much as my voice. So, I kinda liked the way it sounded because it's concise and, I try not to use it too much, but in certain moments it's an appropriate call.


What is your favorite Clyde Frazier suit?
[Laughs] Oh, the cow suit that's an easy one. He wears it once a year and one of my favorite parts about when he wears it is watching the players in warmups looking at him as we're doing our stand-up on the court and their reactions. And he looks fantastic in it.
What shoes does he wear with that? Because the thing that I hadn't really noticed until I started to see him in the media dining room when y'all would come to Atlanta is the shoes are always just as impressive as the suit. What kind of shoes does he wear with the cow suit?
It's not a cow print, but it goes perfectly — I couldn't even describe the color to you — but it goes perfectly with the outfit. And you're right, we always think when we put him on camera that we should shoot head to toe because the shoes bring the whole outfit into perfect form, and he puts so much thought into them. It really is incredible some of the colors on the shoes as much as the suits.
I'll never forget the first time I noticed it he was wearing like a yellow gator boot.
Yeah, it's the mustard color. He has mustard color gator pair of shoes that are just like, whoa.
Finally, if you had to pick your three favorite Finals moments that you've gotten to be on the call for, what would they be?
Ooh, [deep sigh], it's hard to name one specific moment, but I would say certainly the Ray Allen shot is up there because that one shot completely changed the entire Finals. If he misses that shot San Antonio wins the title. And it's always amazing to me how one made or missed shot can make the difference in a narrative and completely change the narrative of a team, of players so that's one of them.
I think the LeBron James block last year has to be up there as well. I do, to me, one of the memories is the way San Antonio executed when they came back and executed against Miami the year after losing — so 2014 — when the Spurs wiped Miami in five games. Their offensive execution was probably as good as I've ever seen watching the game of basketball.
Even though it wasn't a competitive series, just the beauty of it is what teams and players strive for. I remember just being in awe of them just putting on a clinic of how to execute offensively.