If there is one thing Draymond Green loves to do more than anything, it's talk. The Warriors All-Star is extremely loquacious and loves to toss around superlatives to describe his Golden State teammates whenever he gets a chance. This is all part of Green's ability to build confidence in his teammates, but he's also usually quite sincere with his praise. That's why it wasn't too surprising to hear Green laud Warriors interim coach Mike Brown after he won his first game with Golden State in the first round of the playoffs against the Portland Trail Blazers. Yet while Green may have casually complimented Brown, it did hold some significance.Green called Brown the MVP of the game, specifically for his substitution patterns and ability to think on the fly in the heat of the moment.
"When [Brown makes] those decisions that he made like that on the fly, it shows why he's been a head coach multiple times in this league. It shows why he's been to the finals. Why he's been around this league for 30 years," Green said after Golden State's Game 3 119-113 victory over Portland. "He was thrown into the fire. He didn't find out he was coaching until today, and to make decisions like that in a hostile environment about to lose game three, and to do that, that was pretty big time for him. So that was huge."
While Brown won his first game with the Warriors, this wasn't his first coaching opportunity. He's not like Luke Walton, who became the Warriors interim coach at the start of last season due to Steve Kerr's health issues. Walton was a newbie, having only been an assistant coach beforehand. Brown meanwhile has been a head coach with the Cleveland Cavaliers (twice) and the Los Angeles Lakers. Plus he has been an assistant in varying capacities for a numerous teams including the San Antonio Spurs.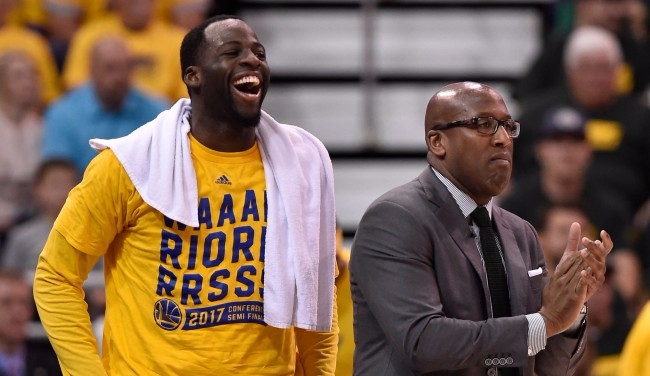 But despite all of Brown's experience, his failings at his second stop in Cleveland and in Los Angeles hurt his reputation as a coach. And while it is unfair to put all of the blame on Brown for the struggles of the Cavs and Lakers when he was coaching, that's just unfortunately how his tenures there are viewed.
That's why Green's praise is so noteworthy.
Here was an All-Star, who is known for being not only vocal but also critical, praising Brown on his very first time coaching the Warriors. It showed that Brown had the trust of the team, especially since Green is essentially the main voice of the Warriors.
Brown of course, has been with the Warriors all season long as an assistant and built a rapport with the team that way. But with Kerr's unfortunate health problems relating to the back surgery he received two years ago flaring up again, he was now in charge and having the Warriors trust him so quickly aided in his on-going success as Golden State's interim coach.
Under Brown's guidance, the Warriors set an NBA record by going a perfect 12-0 throughout the postseason. Kerr remains a presence with the team and regularly meets with Brown, coaches, and players. But it is Brown, who is on the front lines during games, calling out and drawing up plays and subbing players in and out. And while the Warriors are uber talented, star studded, and (thanks to Kerr) a turnkey operation, Brown's coaching smarts, demeanor, and affable nature have shown that he is the right person to take over during the Warriors coach's absence.
And so the 2017 playoffs (and now the Finals) are serving as a redemption of sorts for Brown. The Warriors themselves are seeking redemption after losing to the Cavs in the Finals last year. But given his past coaching stops, the same line of thinking applies to Brown as well.
He has already rebuilt his standing around the league as a head coach with the way Golden State has played throughout the postseason. Brown may no longer be viewed as a retread of a coach. Instead, Brown is the person who has managed the attitudes of four All-Stars and quality veterans and guided them to the Finals. This may seem simple on paper, but that's no easy task.
Also it is pretty amazing that Brown took over the Warriors not just in the regular season but the playoffs. Yet Golden State hasn't missed a beat and are in the Finals for the third straight year.
For the Warriors, winning a championship would quiet the 3-1 jokes and any nightmares associated with last year's Finals. It would also likely make the Warriors a burgeoning dynasty with two championships in the last three years coupled with the best regular season record of all-time.
And if the Warriors defeat the Cavs, Brown will likely downplay his role in helping Golden State win a championship. But if that does happen, Brown's guidance and steady hand would have played an important role in Golden State's win. After all as Green said, Brown is just one of the many MVPs on the Warriors.