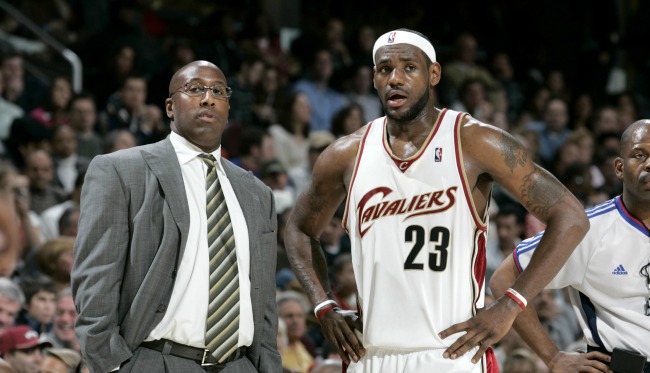 Mike Brown, who had two stints as head coach of the Cleveland Cavaliers, has a new gig. According to Adrian Wojnarowski, Brown will join the staff of the two-time defending Western Conference Champion Golden State Warriors as an assistant.
On one hand, this probably has absolutely nothing to do with LeBron James. The Warriors need to fill a spot on their staff with Luke Walton off to coach the Lakers, and Brown is a well-respected veteran coach who has been to the Finals before and has won over 60 percent of the games he's coached.
But on the other hand, it's fair to say the timing is just a little bit suspect. I mean, the Warriors did just lose in the Finals to LeBron James and the Cavs less than a month ago, and Brown did coach James for five seasons from 2005-06 to 2009-10. If anyone has any insider secrets on what to do to beat LeBron in a another Finals rematch next June, wouldn't it be Brown? Could this be the Warriors secret weapon that makes them the favorites to win the title again? Will the Cavs hire Mark Jackson in retaliation?
Of course not, and even if they were trying to get some secrets on how to beat LeBron, Anderson Varejao probably would have come more in handy than Brown in that regard, and that didn't exactly work out for them. No, the Warriors hiring Mike Brown almost assuredly doesn't have anything to do with LeBron James, but it is at the very least an interesting footnote considering the timing of it all.