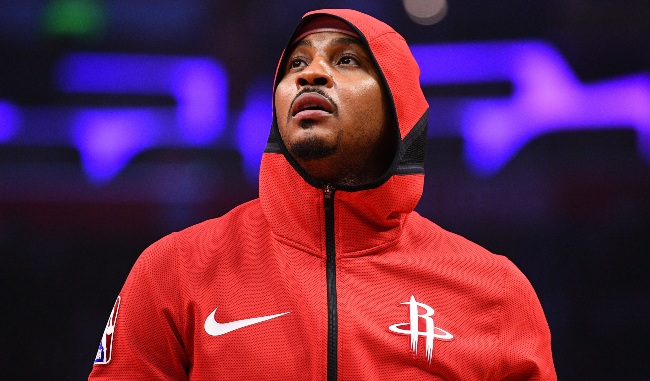 Carmelo Anthony's fit in Houston always seemed to be a bit off. The future Hall of Fame inductee's tendencies as a player were something of a square peg for the round hole into which the Rockets want their wing players to fit, and yet when Anthony hit the open market this summer following his trade from the Thunder and subsequent buyout by the Hawks, Daryl Morey and Co. decided to bring him in.
Ultimately, it didn't work out, and on Thursday afternoon, the team decided to end the Anthony experiment in Houston. First reported by Adrian Wojnarowski of ESPN and later confirmed by the franchise in a statement, it was announced that Anthony will stay with the Rockets for the time being but won't suit up.
Houston will host the Golden State Warriors on Thursday night, and before things tip off, Rockets coach Mike D'Antoni spoke to the media and discussed how this situation wasn't fair to a player of Anthony's caliber.

It's easy to read that quote and take it as the Rockets thinking they could force Anthony into the role they wanted. However, D'Antoni straight up admitted that the team was trying to swing for the fences, but instead of a moonshot to the upper deck, they struck out swinging.
Any team that wants to win it all has to go for broke at one time or another. Sometimes it works and you're able to ride that wave to a championship, and sometimes, you have to cut Carmelo Anthony after he plays in 10 games because he isn't quite working out.