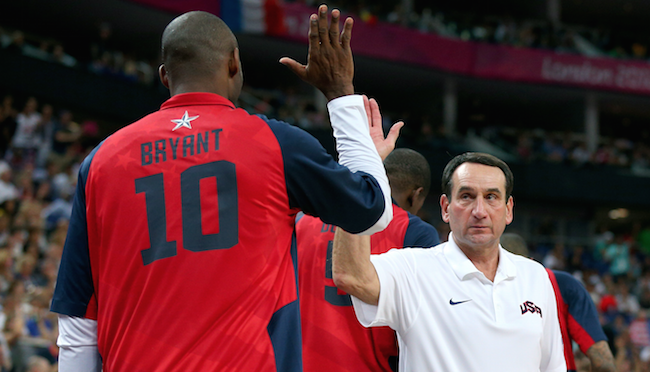 There will never be another Michael Jordan. But Kobe Bryant is the closest thing basketball has ever seen to the Chicago Bulls legend, and not just in terms of accomplishments, either. What made Jordan great wasn't just his breathtaking athleticism or unmatched skill-level, but also his competitive desire and will to be the best.
Bryant, obviously, boasts that same maniacal approach to the game. And according to Duke University and USA Basketball coach Mike Krzyzewski, it was obvious enough that even a teenaged Mamba evoked the greatest player of all-time.
High praise.
All professional athletes are extremely dedicated to their craft. Natural ability alone won't take any player to the peak of their sport; preparation and attitude are key. Bryant, obviously, has the god-given gifts. He's the son of an Italian league legend, and possesses prototype size and athleticism on the wing. He was born to play basketball.
But Kobe's physical gifts alone wouldn't have made him an all-time great. He's received a fair share of criticism during his 19 years in the NBA for alienating teammates and being a bear to coach. Those deficiencies, though, are a necessary byproduct of the mindset that propelled him to heights of Jordan and other select luminaries throughout league history.
And Bryant, unsurprisingly, was apparently using it to torture high school opponents the same way he has NBA ones for the better part of two decades.
[Via Ryan Ward]