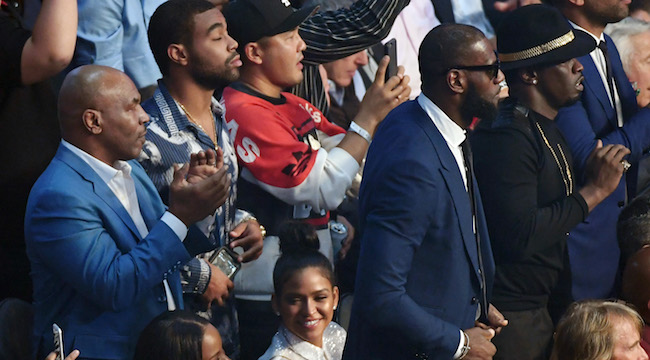 Last month's fight between Floyd Mayweather and Conor McGregor was generally perceived as entertaining and, at least financially, quite fruitful for both fighters. Beyond that, the pay-per-view numbers have been off the charts for the boxing battle and, even with McGregor losing steam in the later rounds, the extravaganza has been described as an overall success.
On that Saturday evening in Las Vegas, the spectacle was half (or more) of the draw and that brought luminaries like LeBron James and Mike Tyson to the T-Mobile Arena to take it all in ringside. However, Tyson visited DJ Whoo Kid's radio show on SiriusXM Shade 45 this week and let the world in on the secret that it may not be ideal to sit directly behind James at a major sporting event.
"He's around 10 foot tall, so when he stood up, I looked up at the fight [on the videoboard] on the ceiling. They had the little tubes on the ceiling. I watched it on the ceiling. I was like, 'God, this guy's tall.'"
James might not actually measure in quite as tall as Tyson would have you believe but, at a certain point, the pull of being in close proximity to James could easily give way to the inconvenience of having to peer around him for a quality view. That likely goes double for Tyson as a former boxer that would have legitimate strategic insight but, during the interview, he did admit that good times were had by all.
There are many times in which it would be awesome to be next to, or even directly behind, LeBron James. Trying to watch a sporting event that has buzz to the level of Mayweather-McGregor probably isn't one of those times.