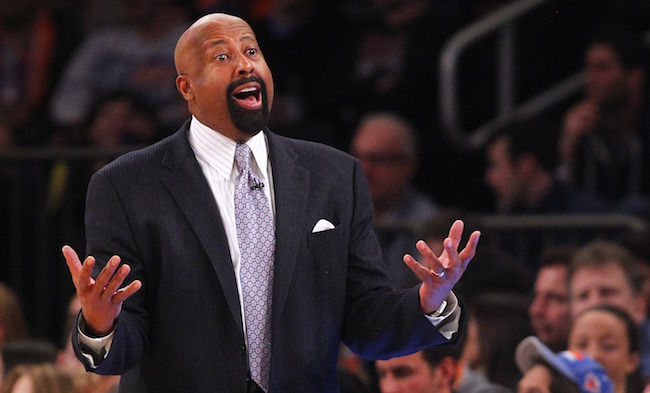 The New York Knicks fired Jeff Hornacek the day after the regular season ended in a move that was anticipated by most everyone in the NBA. Hornacek was Phil Jackson's hire and a new front office led by GM Scott Perry always seemed destined to make a coaching change barring an unbelievable season.
The coaching search in New York officially began on Thursday with various big names in the industry popping up as targets for the Knicks. Mark Jackson, David Fizdale, Jerry Stackhouse, and David Blatt all reportedly have interviews scheduled with the Knicks over the next week, with all four names making some sense.
Blatt has found great success in Europe since being fired by the Cavs and most have expected him to get another NBA shot soon, and New York is transitioning into the young roster Cleveland expected to have when they hired Blatt in the first place. NBA players love Fizdale and most feel he got a raw deal in Memphis, while Jerry Stackhouse has emerged as arguably the best head coach in the G League and has plenty of NBA playing experience to lean on. Mark Jackson had success in Golden State and has the obvious ties to New York that the Knicks always seem to like.
However, there is a fifth name that also has Knicks ties that comes as a far bigger surprise than any of the other four, as ESPN's Adrian Wojnarowski reported that former Knicks coach Mike Woodson will likely have an interview this week as well.

Woodson has been Doc Rivers' top assistant in Los Angeles for the past four years since being fired by the Knicks in 2014, which is what makes his candidacy so strange. Retreads are the norm in NBA coaching, but very rarely do coaches get second chances in the same place, especially in such a short time frame. Woodson did have success in New York, as his 2012-13 squad won 54 games and made the Eastern Conference Semifinals, which is the best Knicks season since 1999-2000.
Marc Berman of the New York Post spoke with Woodson recently about the possibility of returning to the Knicks, and the Clippers assistant made it abundantly clear that he would love a chance at fixing the Knicks one more time.
"I don't want to hide the fact I'd love to be back,'' Woodson told The Post in a phone interview. "I'd like to finish what I started. At the end of the day, you want to come to New York, based on my body of work there. I want it to be mutual. I want them to want me. I hope they call me.''

…

"I think in New York, it's better to have done this before,'' Woodson said. "You can ask Derek Fisher that. I like New York, but New York is a tough place to coach.''

This conversation happened shortly before the news that the Knicks had been granted permission to speak to Woodson, so he will apparently get his wish to at least get a call and chance to make his case. As you can see from his comments here, it's not hard to figure out what his sales pitch will be as he'll assuredly cite that 2012-13 season, his credentials building a young team in Atlanta into a perennial playoff team, and that he knows how to handle the pressures of New York.
That's all well and good, but Knicks fans will almost assuredly melt down if Woodson ends up being the man hired. If nothing else, it provided an opportunity for us all to remember the good times from Woody's run in New York, such as "You wanna play Rasheed?"

There is also this magnificent GIF that was originally put in the comments of SB Nation's Posting and Toasting site that is one of my absolute favorite things I've ever seen on the internet.
Basically, Mike Woodson would not be an inspiring hire, but he would make for some incredible internet moments.