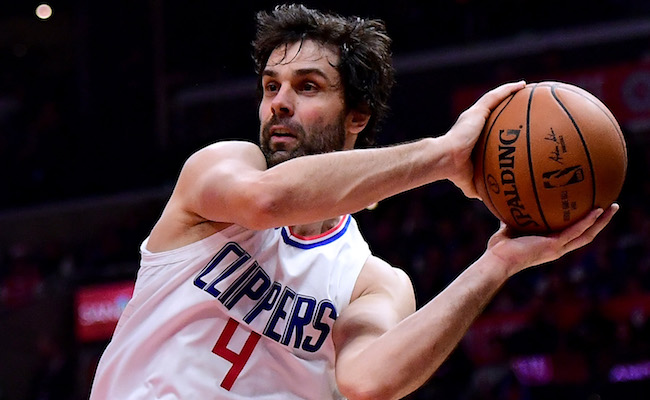 The Los Angeles Clippers are in a very intriguing position as 2018 NBA free agency approaches. The team has approximately $70 million tied up in 2018-19 salary cap commitments for six veteran players and, in short, that group alone (Danilo Gallinari, Tobias Harris, Lou Williams, Austin Rivers, Boban Marjanovic and Wesley Johnson) isn't enough to vault the Clippers into real contention.
Beyond that, the Clippers used two lottery picks on backcourt prospects in Shai Gilgeous-Alexander and Jerome Robinson, and that pair must be integrated into a backcourt that already seems to be overflowing with options.
With that as the backdrop, word broke on Sunday that veteran guard Milos Teodosic is set to exercise a $6.3 million player option for the 2018-19 campaign.

It must be noted that only $2.1 million of Teodosic's salary is guaranteed (by July 15) and that leaves a lot to unpack. Given that the Clippers are already committed to Williams, Rivers, Gilgeous-Alexander and Robinson, oxygen in the backcourt is tough to come by and that's before a non-guaranteed contract for Patrick Beverley and the potential from 2017 draftee Juwan Evans. In short, this is a very crowded perimeter and the Clippers are thought to be at least considering parting ways with Teodosic as a result.
That could be part of the calculus here for Teodosic, as he would gather $2.1 million from the Clippers then, if cut, be able to pursue additional salary in free agency, whether in the NBA or back in Europe where he began his impressive career. On the floor this season, Teodosic wasn't incredible, but he had a more than acceptable 56 percent true shooting to go along with his passing wizardry. The 31-year-old would still add an interesting dimension to a lot of NBA teams.
The Clippers will be weighing a number of choices in the coming days, particularly in the area of DeAndre Jordan's potential unrestricted free agency — he's got a player option he can choose to enact. Still, Teodosic's situation is complicated and, at the very least, opting in before the deadline to do so will provide him with a $2.1 million parachute.