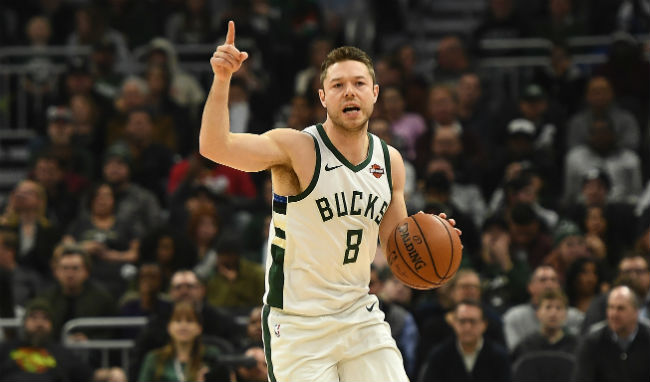 The last time Matthew Dellavedova was on the Cleveland Cavaliers, the feisty point guard played a role in the team's run to an NBA championship. He managed to parlay that into a lucrative deal with the Milwaukee Bucks during the summer of 2016, but this season, his minutes have fallen off significantly.
The solution: Just send him back to Cleveland. Adrian Wojnarowski of ESPN reported that the Bucks will send Dellavedova to the Cavs as part of a package that will net the team veteran point guard George Hill and swingman Sam Dekker.
Soon after, Woj reported that the Washington Wizards entered the fray and were able to acquire Dekker and Jason Smith for a future second-round pick.
As Shams Charania of The Athletic points out, Hill has been something of a hot commodity recently, as teams have been working to acquire him via a trade.
Cleveland will also receive a solid big man in John Henson along with a pair of draft picks, a first and second-round selection in the 2021 draft.
This is a tremendous deal for the Cavaliers, which take on the deals that belong to a pair of vets — one of whom is beloved by fans in Cleveland. Both Dellavedova and Henson will be off the books following the 2019-20 season, and for their efforts, they net a pair of future draft picks.
For Milwaukee, this is a chance to bolster their roster with a pair of players who can help them in one way or another, as Hill gives them a steady hand in the backcourt while Dekker is connecting on 38.5 percent of his threes this season, albeit on 1.4 attempts per game. Plus it's a savvy move for the Bucks financially, as Wojnarowski points out they stand to save big by getting off of Dellavedova and Henson's deals.
Both teams benefit from this in one way or another, and it's going to be fascinating to see where the go from here — Cleveland because it can be aggressive in taking on salary for future assets, Milwaukee because it now has a little more money to play with going forward.