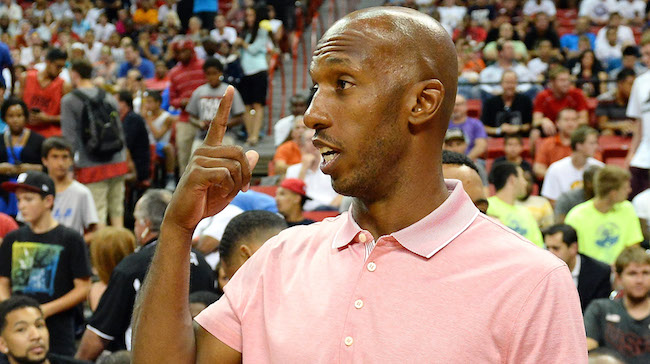 The Minnesota Timberwolves let go of Tom Thibodeau earlier this season in a move most anticipated from the moment the Jimmy Butler trade saga began.
By moving on from Thibs, the Wolves didn't just lose their coach but also the president of basketball operations, and as such, they will face a pair of critical decisions this summer. GM Scott Layden has been running the front office in the interim, while Ryan Saunders has taken over as the interim head coach, but it seems highly unlikely both return next year.
According to Marc Stein of the New York Times, Minnesota plans on turning over the front office to new leadership this summer but wants to retain Saunders as head coach. The name atop the Timberwolves' list for their top front office position? That would be none other than current ESPN analyst Chauncey Billups, who spent two seasons in Minnesota in the early 2000s.
Rumbles persist that Glen Taylor, the Wolves' owner, remains interested in bringing his former point guard Chauncey Billups back to town to run the front office. Yet skepticism also persists about Taylor's ability to make an offer attractive enough to lure Billups from his analyst job at ESPN.
Billups has been a hot commodity in recent summers as a candidate for front office jobs in the NBA. He's been linked to the Cavs and Pistons previously, only to stay with ESPN in his role as analyst instead. As Stein notes, it's very possible Billups passes on this opportunity as well, and if that were to happen, Calvin Booth, who was hired away from Minnesota by Denver two summers ago, could be their next choice.
Beyond just money, there are plenty of reasons for Billups to be skeptical of taking on the Wolves job. If Minnesota is set on retaining Saunders as Stein notes, that would mean the next front office leader would be inheriting a coach who wasn't their hire as well as a few contracts that are, to put it mildly, not easily moved. Namely, Andrew Wiggins' max deal with four more years remaining seems like one of the league's true albatross deals right now, and whoever comes in will have to figure out how to either move that or work around it to build a contender with Karl-Anthony Towns and Wiggins as max-contract centerpieces.