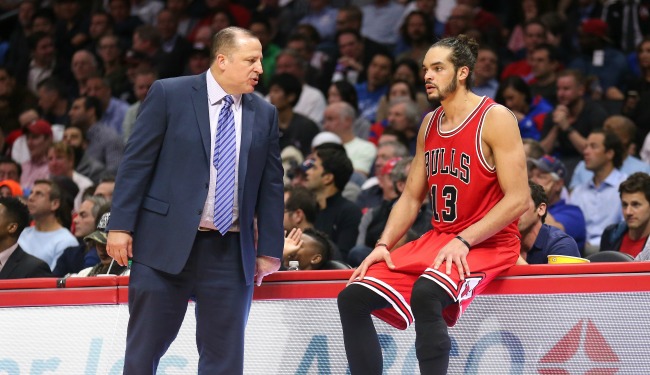 Plenty of jokes have been made in the last few months about Tom Thibodeau's desire to reunite his old Chicago Bulls squads on the Minnesota Timberwolves. Things really got ramped up last week, when Thibodeau brought Luol Deng into the fray after the forward parted ways with the Los Angeles Lakers.
The Wolves now employ three members of the 2010-11 Bulls squad that won 62 games, as Deng joins Derrick Rose and Taj Gibson. These three join Jimmy Butler, who played with all of them on the Bulls when he came into the league the following season. The obvious follow-up to this is for Minnesota to bring in Joakim Noah — who despite his hard times in New York was outstanding in Chicago — but that doesn't seem to be in the cards.
According to Marc Stein of the New York Times, the Timberwolves don't plan on acquiring Noah in the event he goes through his expected breakup with the Knicks in the coming weeks.

Noah totally fell out of New York's rotation last year, appearing in just seven games amid turmoil with then-coach Jeff Hornacek. While Hornacek has been replaced by David Fizdale, the rumblings out of Manhattan indicate that the Knicks want to move on from the veteran big man before the season tips off.
It would be funny if the Timberwolves made a move once that occurs — and Stein's wording ("current plans") indicates that a change of heart is possible — but fans of a full Timberbulls situation may want to temper their expectations for now. Noah's fit would be a bit weird on a team with Gibson, Karl-Anthony Towns, and Gorgui Dieng, anyway, so it makes sense that this isn't happening. Or perhaps Thibodeau wants to go in a direction no one sees coming and have soon-to-be 46-year-old Kurt Thomas become the latest Timberbull despite the fact that he retired in 2013. Who knows.