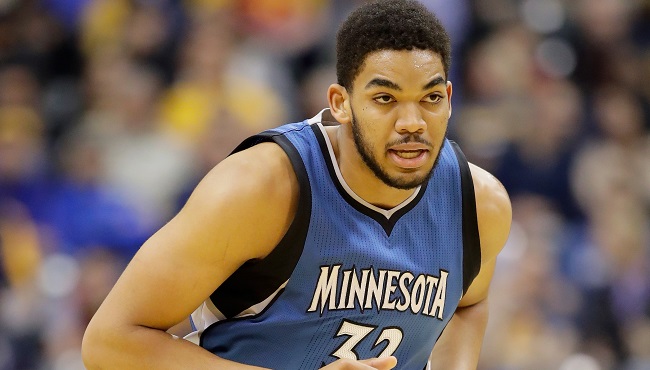 2016-17 Record: 31-51 (13th in West)
Players Added: Aaron Brooks (FA), Anthony Brown (FA), Jimmy Butler (Trade with CHI), Jamal Crawford (FA), Marcus Georges-Hunt (FA), Taj Gibson (FA), Justin Patton (Draft), Jeff Teague (FA), Melo Trimble (FA)
Players Lost: Omri Casspi (FA), Kris Dunn (Trade with CHI), Jordan Hill (FA), Zach LaVine (Trade CHI), Adreian Payne (FA), Nikola Pekovic (Retirement), Ricky Rubio (Trade with UTA), Brandon Rush (FA)
Projected Team MVP: Karl-Anthony Towns
Much of the excitement around the 2017-18 Minnesota Timberwolves began with the acquisition of Jimmy Butler, if only because Tom Thibodeau and company managed to fleece the Chicago Bulls in trading for a top-15 player. In fact, there is a real debate as to who is the better player at this very moment between Butler and Karl-Anthony Towns, with both preparing to star at a high level in this situation. With that said, the No. 1 building block in Minnesota has been Towns since the moment he was drafted and that continues to be the case.
The 7-footer does not turn even 22 years old until mid-November but Towns is coming off a season in which he averaged 25.1 points and 12.3 rebounds per game while shooting 54 percent from the floor, 37 percent from three and an impressive 83 percent from the free throw line. In short, he is already an off-the-charts offensive player with plenty of room to grow into, potentially, the most dominant force in the sport.
Defensively, though, Towns did not make the leap forward that many expected a year ago and that end of the floor will be quite crucial this season. Minnesota's offensive pieces don't fit perfectly together but, with this much talent, there is some baseline level of effectiveness that will arise. On defense, Towns must act as a deterrent around the rim to facilitate the jump many predict from Thibodeau's squad in year two of his scheme and, even if he may not be dominant, it is time for that to take place.

Team X-Factor: Andrew Wiggins
It bears repeating that it is Butler, not Wiggins, that will be the "1-B" to the "1-A" that is Towns this season. However, Butler is a known commodity at this point with an established All-Star level of play on both ends of the floor. In Wiggins, there is quite a bit of uncertainty and he could hold the keys to the season for Minnesota as a result.
The former No. 1 overall pick averaged 23.6 points per game in his third season and he led the entire NBA in minutes played. That, quite obviously, isn't a bad place to start. With that said, Wiggins hasn't been particularly efficient in his NBA career to this point and he is now a clear second-fiddle on the wing. How will he adjust? Moreover, can Wiggins deploy the type of defensive upside that his body type suggests in this (slightly) reduced offensive role, or will the spacing issues that appear real on paper plague this team in a scenario in which he stagnates defensively?
Wiggins is immensely talented but this is a big year for his development, especially on the heels of a massive contract extension.

Best Case Scenario:
This is an extremely talented team. We've already discussed the team's "big three" in Towns, Butler and Wiggins but Minnesota also picked up a solid starting point guard in Jeff Teague while adding Taj Gibson to a frontcourt that already includes another reasonable option in Gorgui Dieng. Beyond that, there is some young talent with Tyus Jones and the recently re-signed Shabazz Muhammad, leaving some upside on the second unit.
The big question is how this team will defend and that is the biggest gap when it comes to projections. If Towns and Wiggins take the next step, Butler stays at his previous level and Teague competes at the point of attack, this could be a league-average defense and that is, frankly, all they need to be. Minnesota was ghastly at times a season ago and, given that this projects as a top-five offense in most metrics, the combination of that electric play and reasonable point prevention would go a long way toward accomplishing the 50-win goals that some see as exceedingly reasonable.
Worst Case Scenario:
This was a 31-win basketball team a season ago and, even if you account for a 10-win bump on the acquisition of an All-Star in Butler, assuming they reach 50 wins is quite bold. What happens if Towns struggles on defense and spacing issues really persist? There isn't a single plus shooter in the Teague/Wiggins/Butler trio and, even if Towns is certainly that at center, the power forward tandem of Gibson and Dieng leaves plenty to be desired.
Thibodeau's arrival brought expectations on defense that weren't meant a season ago and they linger even now. It seems safe to think that the Wolves' baseline on offense is as a top-10 team (even with shooting struggles) simply because the raw talent is too great. The other end is an adventure, though, and the 10th-best offense combined with the 23rd-best defense won't get the Wolves to where they want to be in 2018.