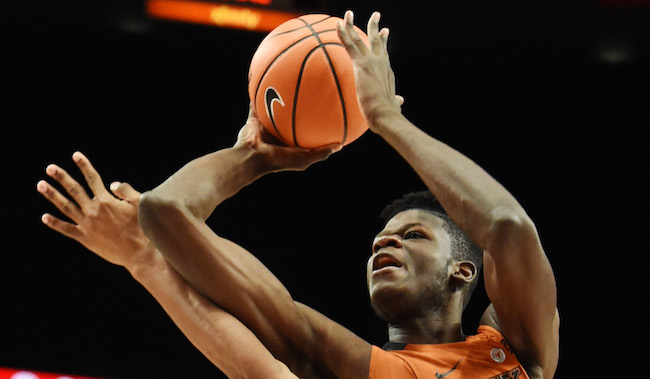 The top of the 2018 NBA Draft looks to be stacked, with Duke's Marvin Bagley III, Arizona's DeAndre Ayton, and Slovenian wing Luka Doncic solidly projected as top-five picks. Beyond that, Missouri's Michael Porter Jr. should still be a factor despite injury concerns and, while there is competition elsewhere for the consensus No. 5 spot, Texas big man Mo Bamba may be the top contender.
While the young 7-footer may not bring the offensive upside of other top-tier prospects, Bamba's claim to fame is a 7'9 wingspan that sends his defensive upside to a level that is rarely seen. On Tuesday evening, Bamba reminded the VCU Rams and, by extension, the rest of the basketball world of that freakish length on what became a highlight-reel dunk.
Bamba seems to virtually levitate on this particular dunk and a look from the reverse angle further cements the ridiculousness of his elevation.
The freshman from Harlem is averaging 10.3 points, 9.7 rebounds, and 4.0 blocks per game in the early going and, while opinions are mixed considering his raw performance in some areas, it is hard to avoid being tantalized by what Bamba could become in the future. If nothing else, Bamba's presence is reason enough to pay close attention to the Texas Longhorns this season and this jaw-dropping play is just one example of why.