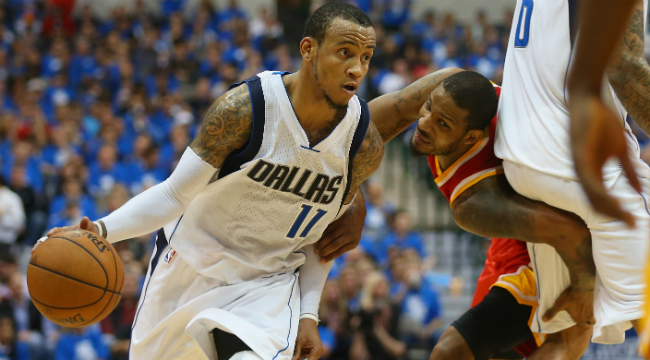 Before he became a Dallas Maverick, Monta Ellis was a symbol of the regressive, wasteful offense that is the antithesis of where the NBA was headed (and where it is now). He was undersized for a shooting guard, but didn't pass enough to be a point guard. He took long, contested two-pointers and pounded the ball while playing for the Golden State Warriors and the Milwaukee Bucks, and when he was a free agent in the summer of 2013, many fans quietly hoped he wouldn't join their team. Playing with Dirk Nowitzki can change a lot of things for a player.
Under the guidance of coach Rick Carlisle, Monta and Dirk became a formidable pick-and-pop duo, as Monta raised his game in multiple areas. Working within a coherent offensive system, Monta cut down on his poor shots, became a better distributor (especially out of the pick-and-roll), and in general proved that he can be a positive piece on a team that fancies itself as playing a more evolved form of basketball.
And now that Ellis has opted out of the final year of his contract with the Mavericks, at least two teams are rumored to be interested, and they more closely resemble Carlisle's Mavericks than the 2012 Milwaukee Bucks in terms of fit with Monta.
Mike Budenholzer and Erik Spoelstra are two of the smartest coaches in the NBA, and adding Ellis to either of their teams would probably feel a lot like seeing him back in Dallas: Sure, he's still undersized, so he'll hurt the defense, but he's talented enough to provide an advantage for tinkerers such as Bud and Spo. If Monta signs with Atlanta, there will be some question of rotational fit. Would Kyle Korver become an undersized small forward, or would Monta be willing to come off the bench? If the latter comes to pass, Ellis becomes an immediate Sixth Man of the Year candidate.
Of course, there's another team reportedly sniffing around Ellis, and they scream "Old Monta":
Oh, please no. The Kings are messed up enough without throwing another moody talent like Ellis in there, and Ellis would be far better served playing for a team with better team chemistry and a more professional atmosphere than Sacramento, which is to say, any team but Sacramento. Now, if George Karl's still around when next season begins, he's a good enough strategist to find fun ways to deploy Monta, but only if Karl doesn't decide out of the blue that he doesn't like Monta and wants him gone. For the sake of all the fans who like watching you work, Monta, don't go to Sacramento.
There's one more team that's been mentioned in the same sentence as Monta, and here's where it gets confusing:
I find it impossible to say whether Monta would be a good fit for the Pacers, because the Pacers are a mystery wrapped in an enigma. Roy Hibbert has opted into his contract, but Indiana reportedly doesn't want him around. David West is all but gone after opting out, and Rodney Stuckey might be gone, too. All we know is that Paul George will finally be healthy at the start of the year (barring any setbacks, of course). Frank Vogel may not be the same caliber of coach as Spoelstra, Carlisle or Budenholzer, but he's shown inventiveness in crafting top-flight defenses with offense good enough to get by in recent years (before it all went to hell last year).
Monta could work well in Indiana, but it largely depends on who the Pacers bring in to fit around him. Their first-round draft pick this year, Myles Turner, has the makings of a fun pick-and-pop big, but he'll be a 19-year-old rookie next season, so expectations should be tempered right off the bat. Either way, he might combine well with Monta, but he's no Dirk.
Based on gut feeling, I'd say that if Dwyane Wade doesn't return to the Heat next year, Monta will fill his place, and the Heat will run a Monta-Goran Dragic backcourt and dare their opponents to stop all the quick penetration. That would be fun to see, though they'd have to work twice as hard to be even league-average on defense. If Wade comes back to Miami, who the heck knows where Monta winds up? I just hope it's with a team that knows how to use his considerable talents.
[Via Tim MacMahon, Chris Broussard, Chris Mannix, Dave Carmichael]