The NBA's offseason has featured players moving around at an unprecedented rate. Whether it's been stars going from one city to the next or fascinating role players bolstering the roster of a contender, this summer has completely re-shaped major elements of the NBA. The league has been known in recent years for its ability to attract interest off the court just as easily, if not more so, than it does during games, and this summer was a reminder of why that is the case.
Now, all eyes turn to the upcoming season, which is as wide-open as it's been in some time due to things looking awfully different now that the dust has began to settle. Earlier this week, we looked at the most interesting players in the Eastern Conference as we project things out and survey where teams are right now.
We're mimicking that exercise today, but this time, we're looking at the Western Conference. The beneficiary of much of the player movement we saw this summer, the West promises to be a meat grinder once again. Whether teams have title aspirations now or are building towards those in the future, every squad boasts at least one player who makes us raise our eyebrows heading into 2019-20.

Dallas: Kristaps Porzingis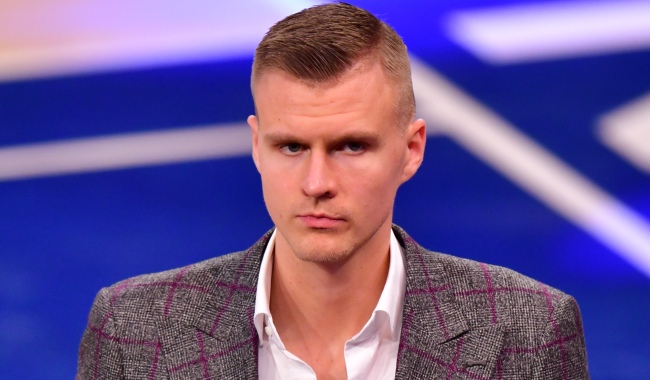 There are high hopes in Dallas for this season, chiefly because of the excitement around pairing the reigning Rookie of the Year, Luka Doncic, with Kristaps Porzingis, who sat out all last year with an ACL injury. Porzingis was given a max contract this summer by Dallas, who don't seem concerned about his injury history or the rape allegations following Porzingis from his time with the Knicks.
On the court, it's not hard to see why they're excited, but they certainly are taking a risk. If he is healthy and cleared of legal troubles, Doncic and Porzingis could emerge as a duo worthy of being in the discussion with the best in the league (a high bar to clear after this summer). Porzingis is as unique a talent as there is at his size and has superstar potential. This season we'll see if he can stay healthy and fulfill his incredible promise.
Denver: Michael Porter Jr.
The Nuggets are going to be really good. They were the second-best team in the Western Conference in the regular season last year, and seeing as how they brought everyone back, they're going to make some noise this season, too. The issue is they didn't really add anyone new, while a whole bunch of teams in the conference got better.
This is why Porter is such an interesting player. Denver is wagering that their improvement will come internally now that the former No. 1 high school player in the nation is, in their estimation, healthy and ready to contribute. If this happens, Porter fills a gigantic need because, for how good the Nuggets are, they don't really have the kind of dynamic perimeter scorer that Porter could be. If not? Well, they'll still be good, but like last year, it's hard to see them getting past the second round of the playoffs.
Golden State: Steph Curry/D'Angelo Russell
Behold, your new Splash Brothers for however long it takes for Klay Thompson to get back. The Warriors don't have a ton of depth, so more than ever, the team's backcourt will have to be gigantic for it to keep its place atop the Western Conference. The question, of course, is how will Curry and Russell work? Curry is the Warriors' leader and primary initiator, but Russell is at his best when he has the ball in his hands. If anyone will know how to strike that balance, it's Steve Kerr, but the sooner they figure this out, the less work the Dubs will have to do to be among the conference elite as Thompson works his way back to 100 percent.

Houston: Russell Westbrook
The Rockets swung for the fences by trading Chris Paul and a pair of draft picks for Russell Westbrook, reuniting him with his former teammate, James Harden. That pairing is going to be fascinating to watch, but there's no doubt whose team it is in Houston, so how Russ adapts to being in Harden's house is going to be the most interesting question for them this season. There's reason to believe they can make it work, but growing pains could exist. Of all the newly-formed pairings in the league this season, this is the one that has the widest variance in boom or bust outcomes. Where it ends up in reality will likely fall on the shoulders of Westbrook and how he fits in, which will be something new for a player that's done it his way for a very long time.
L.A. Clippers: Ivica Zubac/Montrezl Harrell/JaMychal Green
Los Angeles, for the first time in franchise history, is considered the favorite to win a championship heading into the season. This sort of thing happens when you have an ultra-talented backcourt and add Paul George and Kawhi Leonard to your roster. However, I'd like to posit a question: Let's say the Clippers need to beat a team with a good center — like the Lakers or Nuggets or Sixers — to win a ring. Who on earth is guarding them?
The Clippers are betting that their defense (potentially stifling) and two superstars will propel them to a ring. It is a good bet. The team's one weakness could be at the 5, though, where Doc Rivers will be tasked with figuring out how this group will shake out. Zubac has the highest ceiling, while Harrell and Green might be better options to close out games due to their rebounding, defending, and switchability. There are other questions this team needs to answer, like, say, how Lou Williams fits into everything, but going 1-5, this might be the most pressing one.
L.A. Lakers: Anthony Davis
We considered Kyle Kuzma in this spot because he's the one guy they kept, and now the pressure is on for him to reward the Lakers for doing so. However, the answer almost has to be Anthony Davis for the way he pushed himself to L.A. and how much more pressure will be on him to deliver next to LeBron.
The goal for the Lakers is simple: win a championship. Davis has said it himself and believes they have a great chance to make that happen, but he has to prove he can be a key cog on a championship team. He's a player who's considered one of the league's five best, and this season he has a chance to prove it on a title contender, with no shortage of eyeballs watching his every move.

Memphis: Jaren Jackson Jr.
Jackson has, so far, done everything you want to see out of the face of the franchise this offseason. He was at the draft and was one of the first people to show love to Ja Morant after he was selected by the Grizzlies, and he was at Summer League rooting on his squad. Jackson seems to understand that he is the man in Memphis in the post-Grit-n-Grind era, and now that he's healthy, this season presents an opportunity to build on his first-team All-Rookie campaign. Oh, also: He has as much talent as any young player in the league. He's a potential superstar. Now it's time for him to show why.
Minnesota: Andrew Wiggins
The Timberwolves weren't able to land D'Angelo Russell, their top target this summer, and instead pivoted to making small moves on the periphery of their roster. That means it'll be Karl-Anthony Towns and Andrew Wiggins running the show once again, and if Minnesota is to take any kind of step forward, it's going to have to be on the backs of those two. Of that duo, Wiggins is the wild card, and he needs to take a substantial step forward to help the Wolves be a playoff contender and to help justify his max contract. A career year from Wiggins is almost a necessity in Minnesota; we'll just have to see if he can take that leap into being an efficient scorer and improved defender.
New Orleans: Zion Williamson
Probably the easiest choice in the league, all eyes will be on Zion in New Orleans. The top overall pick has the most hype for a player entering the league since LeBron James. He'll be picked apart by critics, from his weight to his shooting, and adored by fans for his thunderous dunks and violent blocks. Somewhere in the middle will be the actual story of Zion's rookie season, but it'll be incredibly fun to follow along as New Orleans has real playoff buzz entering the year with a pretty strong team around their hopeful superstar rookie.

Oklahoma City: Shai Gilgeous-Alexander
So, the Thunder, huh? They've managed to almost strip it all down in the last few weeks, and with the expectation that Chris Paul will be on the move at some point, their top acquisition in the Paul George trade figures to take center stage. SGA was tremendous last year for the Clippers and now gets to take the helm in OKC as they begin a rebuild. He's the chief player asset brought in via their two big trades, and it'll take some time for the rest of those picks to help them fill out the roster around him. Whatever the team looks like moving forward, SGA is the foundation right now, and his development in his sophomore season will be the thing to watch with the Thunder.
Phoenix: Deandre Ayton
The Suns were active this summer and definitely got better. How much better is up for debate, and will likely be determined by what last year's top overall pick looks like in Year 2. Ayton was a very good rookie, who looked a lot like the player most expected him to be. He was efficient offensively, a monster on the glass, and at times looked totally lost on defense. A step forward in that latter category will be especially critical for Ayton and the Suns, as they need him to be a useful defender.
That's not going to be easy, as he doesn't have the best defensive instincts, but the talent and physical tools are there. We know what Ricky Rubio and Devin Booker are and can project those two accordingly. Ayton's the wild card right now that can either lift or lower the Suns' ceiling for this coming season.
Portland: Hassan Whiteside
I have no idea what Hassan Whiteside is going to be in Portland. The hope is that, obviously, he can do all the stuff that he does at his best — block shots, gobble up rebounds, etc. — in the time leading up to Jusuf Nurkic coming back from his leg injury, at which point he will go to the bench and then do all that stuff in limited minutes. With the Blazers' really strong locker room, Whiteside won't find himself in the situations that he found himself in during his time with the Heat, where he wasn't happy with how things worked and how he was used.
If this doesn't work, perhaps Whiteside's gargantuan expiring contract could, say, be salary filler in a trade that brings an All-Star on the trade block to Portland. But he'll be given every chance to make this work. It'll be on Whiteside to tap into his copious talent to make it happen.

Sacramento: Marvin Bagley
So much of the Kings' approach over the last few years has been figuring out their building blocks. Buddy Hield is their high-scoring marksman, something they figured out after acquiring him in the DeMarcus Cousins trade. De'Aaron Fox is their point guard of the future, which they figured out after an unsurprisingly up-and-down rookie campaign. They were patient with Harrison Barnes as he settled into a new role following his time with Golden State, and as such, they gave him a whole lot of money with the belief he is part of their future.
Now, it's Bagley's turn to establish that he can be the guy in Sacramento's frontcourt moving forward. There were certainly flashes of it during his rookie year, but can he do it consistently? Is he a four, or is he a five? How will his on-court chemistry with the team moving forward continue to evolve? We're optimistic, because Bagley is really good, but we also can't wait to see how it all shakes out.
San Antonio: Dejounte Murray
Murray looked primed to become the next Spurs draft gem, a talented floor general who is also a complete nightmare on defense. Then, before the regular season tipped off, he tore his ACL. San Antonio isn't a particularly young team, but if Murray is as good as the franchise anticipates he will be, he'll give the Spurs a youthful shot in the arm that they could really use, especially after Derrick White also looked like a potential backcourt building block moving forward.
Utah: Mike Conley
In a statement that is not meant to take away from the glory of the Grit-n-Grind Grizzlies, Conley has never had perimeter players around him like he will in Utah. Donovan Mitchell and Bojan Bogdanovic are the kinds of scorers/playmakers who can take a ton of pressure off of his shoulders, while Joe Ingles is the best marksman with whom he has played. Add in Rudy Gobert doing Rudy Gobert stuff in the pick-and-roll and down low, and Conley has more around him than he ever has in his NBA career.
Conley, even though Memphis gave him a ton of money a few years back, has been an underrated basketball player for years. He's smart, he's savvy, and his decision-making is usually on point. Now, he'll get to do all of this with more offensive talent around him than he's ever had. The Jazz will be as stout as ever defensively, but if Conley can elevate their offense to the point that they can be a top-10 unit, the championship aspirations in Utah are absolutely warranted.