Players in the NBA are often misunderstood, underutilized, or unappreciated for a variety of reasons. Many have all the talent in the world yet are confined to a system or a losing situation that doesn't bode well for their confidence and ability to make plays. Currently, with how the game is played, there are many players that get lost in the shuffle in today's three-point, run-and-gun, pace-and-space style of play.
It takes immense talent even to make it to the league, much less star or make a career out of it. For a bunch of guys with even All-Star appearances, awards, big numbers, or highlight reels, it's still possible to get overlooked by even the most devoted fans of the game.
We decided to take some of these players and compile a list some of the most underrated ballers in the NBA.

D'Angelo Russell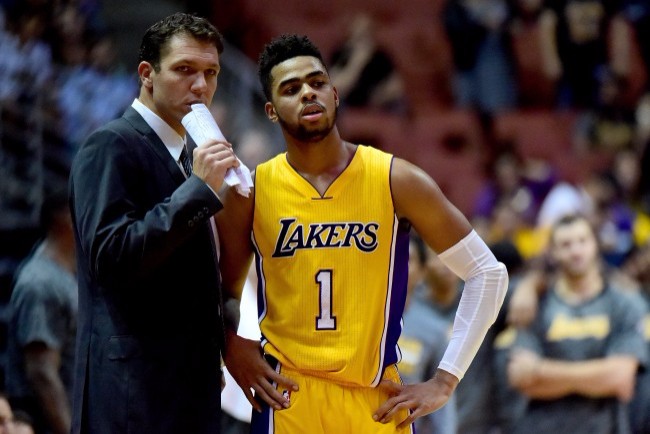 Obviously, the first thing that pops into fans' minds about the former Ohio State guard is his lack of maturity due to his run-ins with teammates and the coaching staff in year one. However, because of that, many forget how impactful he can be when he's feeling right. When Russell was on the floor this season, the team's assist to turnover ratio was at it's highest at 1.55 assists per turnover and the team's three-pointers made and attempted were at the peak (10.2 made and 29.3 attempted). Appearing in only 63 games due to injury, Russell averaged 15.6 points, 4.8 assists, 3.5 rebounds, and 1.4 steals in only 28.7 minutes per game.
The Lakers were 26-56 on the year, so it's hard to fully digest what a good season could look like for a player like Russell. But, the real positive for Russell was that the Lakers were a -6.9 for the season (plus-minus) and the Lakers most utilized lineup, which included Russell, was a positive 5.2 (Nick Young, Timofey Mozgov, Luol Deng, and Julius Randle with him). This lineup played more minutes than any other by over 200 minutes.
Russell also possesses incredible vision on-the-court and while he may make mistakes more frequently than you'd like, his ability to find teammates, generate offense out of nothing, and create his own shot with sneaky athleticism is excessively understated. You won't find many players at his size that have the combination of vision, court awareness and general presence to demand the ball after losing it or having teammates miss easy assists, like he does.
Does Russell have flaws? Of course, he's not Steph Curry or LeBron. But he's got an uncanny ability to read defenses and exploit mismatches. He's also much better on defense than he's given credit for. He gambles, he bites on shot attempts, but he does read the game very well which helps him in garnishing steals and knowing where to switch.