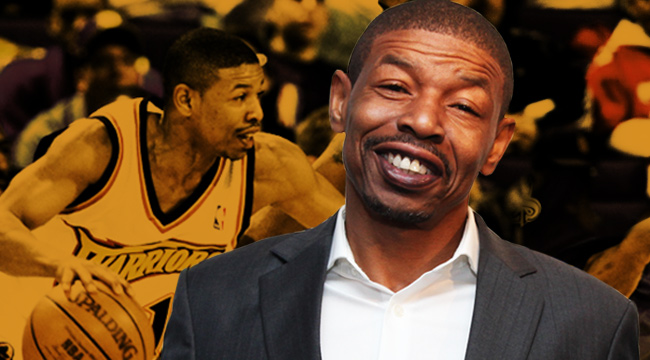 Whatever the reason, NBA fans have a fascination with players who aren't as tall as the gigantic players in the league. Sure, we can still marvel at the LeBron James freight train, the elegance of Kristaps Porzingis, or the sheer brilliance of Karl-Anthony Towns, but there's something about a guy under six feet tall getting buckets that stops fans in their tracks.
Whether it's the dunking prowess of Spud Webb and Nate Robinson, or the fun of Isaiah Thomas dropping points on everybody, we marvel at the little guys. And there was no little guy more tenacious, more unique, and more fun than Muggsy Bogues.
The former Hornets star had a couple memorable seasons with the Warriors after his days in Charlotte, and he's still beloved in both cities. Even now, he's making appearances with the Golden State crew, including an American Express hosted watch party on April 8 at Pier 35 along with Corey Maggette, Adonal Foyle, Tony Delk, and Antawn Jamison.
We caught up with Bogues and discussed everything from the rise of the Warriors to little dudes in the NBA, and more.


What do you have going on with the Warriors this weekend?
It's a watch party, our final event that American Express is putting on, and we teamed up with the Warriors. We're gonna have over 700 guests that's gonna be representing local businesses as well as Dub Nation fans, so it's gonna be a mixture of local businesses and fans in the Bay Area. And it's a great opportunity for us to be able to mingle, meet, and greet with the fans, as well as the local business folks in the community. It's a great cause, a great opportunity that American Express is giving these local businesses as well as to the fans.
As someone who played for the Warriors toward the end of your career, what's it been like for you to watch their ascension these past couple of years and just how far they've come?
It's a great time to see the organization as well as the players. They're doing extremely well. Winning the championship within those last two years, bringing so much excitement. The culture it's built around the Bay Area, the Oakland area, it's been amazing. It's just fun to watch, and you know, having a kid that's at the helm of it, who I kinda watched grow up, Stephen Curry, it's just special to see. So the fans should be very excited. As a former player, I'm just excited to watch what's going on with the organization.
What's your relationship like with Steph and those guys?
I've had a relationship with Steph ever since he was a little boy, you know, him and his dad. I don't have to speak basketball with him anymore. I'm watching as a fan now. I had the opportunity to get out there during the Finals last year. So just every time I get a moment to come into the young fella's presence, because he's a busy young man now, and his life has gone in a different direction, but every time I get an opportunity to see him, especially mostly in the summertime, just continue to let him now how proud I am of him and what he's doing, not so much on the court, but off the court, because he has a beautiful family, and he's doing everything the right way.
Many NBA players past and present have become more socially active in the wake of all the police violence against the black community. You joined the fray in January after an unarmed man, Keith Lamont Scott, was shot in killed in Charlotte and the violent protests that erupted after. Do you think the league and players have a responsibility to speak out about social issues, and if so, what more should they be doing?
I think every citizen should be outspoken, not just the NBA product, the NBA brand. But I think these guys felt like they have a platform, and they have a voice where they can express their opinion. And hopefully their opinion can be followed behind with actions. And that's what you gotta do. You know, a lot of these guys come from those areas. They may not have been exposed to it themselves, but they know someone who has, a friend or relative or someone who grew up in that particular atmosphere, that's been through similar things. So we just gotta do a better job of embracing and realizing the humanity of each and every individual.
The police as well as the community just gotta do a better job of embracing one another and understanding what everybody's role is, and we know that the police have a job to do, and the kids understand that they wanna be protected as well. It's a lot of innocents getting accused of doing wrong things, police and kids, and then you also get the ones that are just blatantly out there doing things that they have no business doing, taking advantage of their power. So we still gotta keep the dialogue. We still gotta keep pursuing it, and hopefully we get to a point where everybody can respect one another, and we can all live a more peaceful life.


You were nominated for the Hall of Fame this year. What does it mean to you to be in that conversation and the possibility of being inducted some day in the future?
It was great. I don't wanna say a dream come true, but it's an honor just to be mentioned. The things that you were able to do in your career that people appreciated and they recognize and put it in the highest award you can carry, which is the Hall of Fame, so to be nominated I am more than honored and more than grateful and thankful. So hopefully one day that nomination will become a finalist, and I know my mom would be proud of me.
When you see a player like Isaiah Thomas, who is generously listed at 5'7, among the league leaders in scoring and a legitimate MVP candidate, how does it make you feel to know you were one of the guys who paved the way for undersized players in the NBA?
I'm really happy for Isaiah, you know, I had an opportunity to really talk to him when he first came into the league, to serve sort of as a mentor, and to see where he's taken his game and how he stayed with it and didn't give up after being traded to Phoenix and then going on to Boston and then coming off the bench at the beginning. He stayed on course, became an All-Star that year, followed it up with another All-Star. Now he's created a whole identity for himself, with a nickname, Mr. IT, King of the Fourth Quarter. He's really put himself as well as the Boston Celtics back in that conversation of being one of the competitive franchises out there, so I'm so happy and proud of him.
You played in an era with some of the most notorious trash talkers of all-time. Do any specific instances stand out to you, and were you someone who liked to engage in a little back and forth?
I wasn't one of the big trash talkers, but you know, you're always gonna have some type of dialogue and conversation going on out there when you're playing against certain guys, like a Gary Payton, a Tim Hardaway, you know those guys love to chit chat, but I didn't have much of that. They took more to the two guards more than anything. But you had some players out there who loved to talk, the Reggie Millers, of course the Michaels [Jordan] and all those. But as far as the point guards, the ones that stand out are the Tim Hardaways and the Gary Paytons. But we never had too much of that bad trash talking. I wasn't into all that. I just played and hooped.


Kemba Walker is the new face of your former team, the Charlotte Hornets, and he's also generously listed at about six-feet, although he certainly qualifies as an undersized point guard. Is he someone who you have a relationship with, and if so, what sorts of things do you talk to him about?
Unfortunately, I don't have a relationship with Kemba, but I know Kemba. But I don't do anything with the Hornets. I work solely with the NBA as an ambassador, but you know, we live in the same city. I'm still from afar watching him. I've seen how well he's taken his game to that next level. When he first came in, he struggled with shooting the basketball, but each year he's found a way of how to keep progressing and how to keep up with those guys. I think this year, the game's slowed down for him. The way the basket became bigger, the holes became wider. He was able to take his team and elevate them to a level – which some folks may think they underachieved – but I think he did a remarkable job of putting them on his shoulder, and the result of that was to make the All-Star team this year.
The Hornets seem like they've been on the precipice of becoming a perennial playoff team for the past couple of years, but haven't quite been able to get over the hump. What do they need to do to make the next leap?
I think they're a player or two away, but Coach Clifford got them guys playing competitive basketball, no-quit basketball even to the end, even though they're out of the playoffs today. They're still fighting, they're still believing that they have a chance to make it. And that's a testament to Coach Clifford. But you know, they got shooters, they got a good mixture. I think they need a little more inside presence, and probably another guard who can really fill it up. Kemba needs help. He can't do it by himself every night.
Not saying that the other guys are not able to do it, but you need guys who have that skill-set who can put that ball in that basket and can complement one another. I think Batum, if he can stay healthy enough, I think that they can make a good run going forward with Kaminsky and Zeller, but I still feel like they need another big that can be a little more intimidating in there, where you can throw the ball in and get a bucket in there in the post. They've got perimeter type players, but I think you need an inside big who can kinda clog that middle up and slow that ball down, especially when the playoffs come.