The NAIA men's national championship had its own bit of March Madness on Tuesday night, as Graceland (Iowa) won its first ever national championship on a buzzer-beater in overtime.
Justin Harley hit a 3 as time expired to give Graceland an 83-80 win over LSU Alexandria in the championship game in Kansas City, capping a thrilling game that ended on a desperation shot.
LT Davis handled the ball for Graceland in a tie game with 13.4 seconds left, but he stumbled at the 3-point line and drew a pair of defenders who thought he might turn the ball over. Instead, Davis passed to Harley at his right, who stepped up and fired the three with just over a second left on the clock.
The shot set off a wild celebration for Graceland, and a pretty good "have mercy!" call from the ESPN broadcast. And look at those happy Yellow Jackets.
It was so unexpected that ESPN had a bit of a chyron fail on the broadcast. Here's the "final" score with the game still tied as Graceland celebrates in a pile on the floor.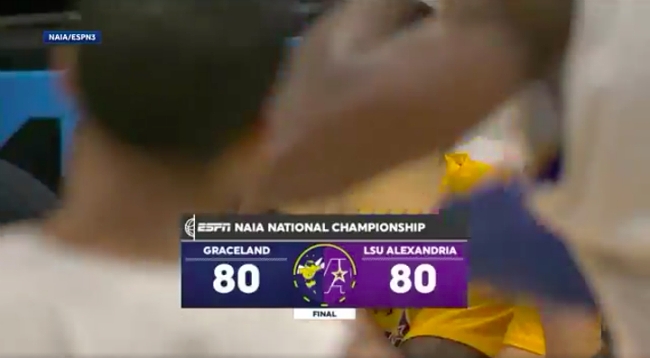 According to ABC, the game had a wild ending to regulation as well.
LSUA took a 67-66 lead on William Claiborne's shot in the paint for its first advantage since 3:14 remaining in the first half and extended it to 70-66 on Jordin Williams' eighth 3-pointer of the game.

Davis had a 3-pointer blocked, but grabbed it and drove the lane to find Nelson for a game-tying layup with 3.5 seconds left in regulation. Brandon Moss hit the back of the rim on a long 3-pointer at the buzzer.
Graceland won the title in just its first ever trip to the NAIA tournament, finishing the year with 11 straight wins and a 29-10 record.