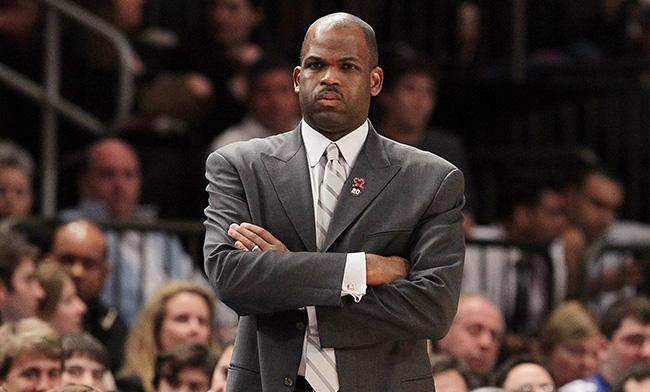 When Larry Bird announced 11 days ago that he wasn't renewing Frank Vogel's contract as coach of the Indiana Pacers, one of his chief criticisms of Vogel was that he didn't run a fast-paced offense. That makes Bird's hire of Nate McMillan, who has been an assistant in Indiana for three seasons, a little confusing.
The Pacers made McMillan's promotion official on Monday afternoon, with this statement from Bird:
"I truly believe Nate is the right coach for us at this time," said Pacers President of Basketball Operations Larry Bird. "When I heard he was interested, I got in touch with him, met with him and in our conversation I came away with all the confidence in the world in Nate to lead our franchise to where we want to go. His experience as a player, head coach and assistant coach in the NBA are valuable assets for us."
McMillan added:
"I want to thank Larry, Herb Simon and the Pacers for this opportunity, which is a great opportunity," said McMillan. "I've been around this franchise three years and understand what the expectations are and look forward to working hard to try to meet them. We have a good team and good base to build from. I'm very anxious to get started."
McMillan is a good coach with a solid track record in 12 years in Seattle and Portland. But there is nothing about his coaching history that suggests he's the coach you want if you're going to speed up the offense. In 12 seasons, McMillan's Blazers and Sonics team only finished in the top 20 in the NBA in pace three times, and never higher than 14th.
That doesn't mean McMillan can't coach offense. The 2008-09 Blazers were second in the league in offensive efficiency, scoring 110.7 points per 100 possessions per NBA.com. And McMillan is a great "culture" guy, playing a major role in bringing the Blazers back to respectability out of the infamous "Jail Blazers" era of the mid-2000s.
For what it's worth, McMillan said Monday he's not stuck to an offensive philosophy and he's willing to adapt, which is a good sign:
Bird said last week that part of his reasoning for letting Vogel go was wanting a new voice, which makes it a little puzzling that he went with an assistant from the same regime. But the players seem to like McMillan, and if he's willing to update his offensive philosophy to fit his roster, it's worth a shot.