The 2018 NBA Finals have featured the same outcome in all three games that have been played so far. While the way we've gotten to those outcomes have been different every time, each game has ended with the Golden State Warriors walking off the court with a win over the Cleveland Cavaliers. With Game 4 set to tip off at 9 p.m. EST on Friday night, the Cavs are in about as unenviable of a position as an NBA team can be in.
With Cleveland's backs against the wall and the Warriors just 48 minutes from hoisting the Larry O'Brien Trophy for the third time in four years, Game 4 is sure to feature some fireworks. We decided to do an NBA 2K simulation to try and figure out exactly what is going to go down.
As always, you can check out the video of our full simulation below, with a breakdown of what goes on in the game after the jump.
When it's all said and done, NBA 2K believe we're heading to a Game 5 at Oracle Arena, as the Cleveland Cavaliers are finally able to get on the board with a win.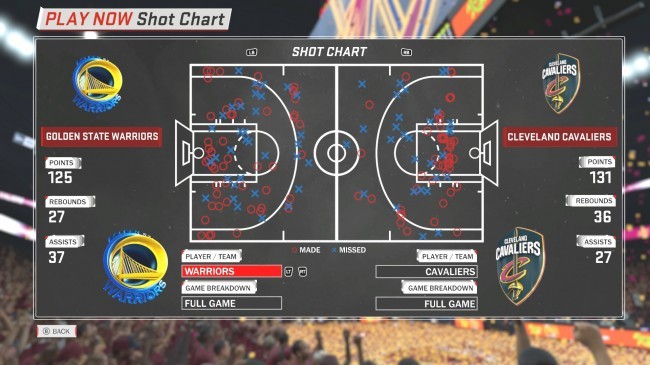 The full breakdown shows there are two places where the Cavaliers are able to really hammer the Warriors in Game 4: The free throw line and inside the paint.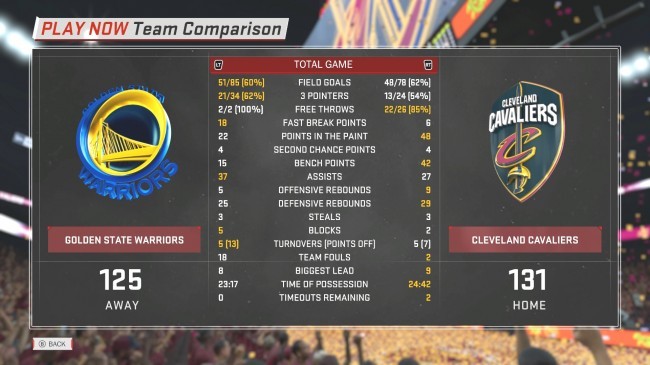 Cleveland, as is usual, gets the performance you would expect out of LeBron James, as he goes for a remarkably efficient 36 points with 11 assists. But the big surprise is that the Cavs' role players, led by a 25-point outing from Jeff Green, come up in a huge way.
The Warriors get huge games from the Splash Brother, as Klay Thompson and Steph Curry combine for 68 points. Beyond those two, Kevin Durant follows up on his monster Game 3 with a solid-but-underwhelming night, while Andre Iguodala gives the Dubs 14 points, five boards, and four dimes.

Of course, the question is now whether the Cavaliers can get the series back to Cleveland for a Game 6, or if this is just their requisite win in a gentlemen's sweep. But for now, we'll all have to wait and see if NBA 2K gets this one right and a Game 5 on Monday night is necessary.