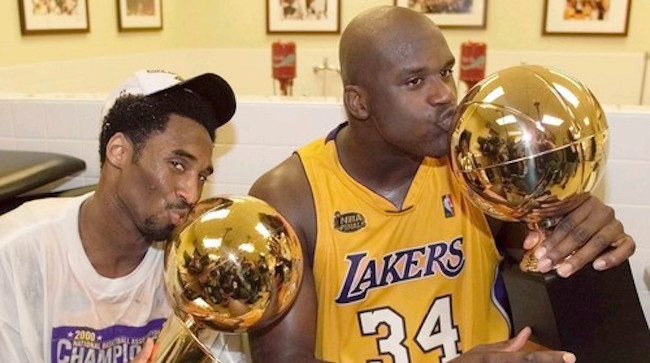 When it was announced that all 30 NBA franchises would be getting all-time teams in NBA 2K18, fans immediately tried to come up with what their team's all-time roster should look like. For newer franchises or those without a storied legacy of great teams or players, an all-time roster might be easier to put together.
However, for teams like the Lakers and Celtics, those with numerous Hall of Famers and retired jerseys in the rafters, the process of whittling years of history down to a single roster can be tricky. We won't know the full rosters for the all-time teams until closer to the September 19 release date, but on Tuesday the folks at 2K Sports gave us a tease of what the Lakers roster will look like.

From left to right you have Magic Johnson, James Worthy, Shaquille O'Neal, Kobe Bryant, Kareem Abdul-Jabbar, Wilt Chamberlain, and Pau Gasol. Of all of those names, Gasol's presence is probably the one that will surprise the most people, as he's not likely considered a Laker legend, but he was the No. 2 player on multiple championship teams.
The roster is also heavily loaded with frontcourt players, with Shaq, Kareem, Wilt, Pau, and Worthy, leaving Magic and Kobe as the two key backcourt players. The rest of the roster can be expected to be filled out with wings and guards, considering the frontcourt rotation appears to be on pretty good display here.
There are eight other spots to fill on the Lakers squad, and you'd assume the likes of Jerry West and Elgin Baylor are automatic selections behind this group, leaving six spots and a lot of backcourt help needed. Byron Scott, Michael Cooper, and Derek Fisher also seem like likely choices for the team to fill those backcourt spots, while A.C. Green and Jamaal Wilkes also should have spots on the squad.