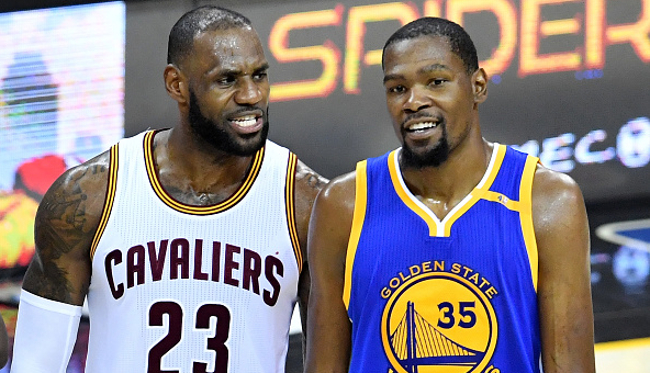 The NBA 2K franchise has done a masterful job so far of building anticipation for the upcoming release of its latest version, NBA 2K18, which is set to hit the market on Sept. 19. The game-makers have been leveraging social media in an effort to draw interest by incrementally Tweeting details about the game's newest features, which so far have included the All-Time teams for all 30 NBA franchises, classic teams like the "We Believe" Warriors, and commentary from retired legends like Kobe Bryant and Kevin Garnett.
They've also released their highest-rated players by position, with the centers, power forwards, and point guards all trickling in over the past couple of days. On Tuesday, they went ahead and dropped the top 10 small forwards, and let's just say there weren't many surprises.
James, Durant, and Kawhi sitting on top come as expected, and it's no surprise that this, like point guard, is one of the strongest position groups. There won't be any overlap between positions in NBA 2K18, so, while Jimmy Butler might play some small forward at times and LeBron James will play power forward as well, their primary position dictates what list they end up on.
Still, there will be plenty for fans to argue about. Danilo Gallinari's presence, in particular, might give some folks pause. And, of course, there's always the vocal contingent who'll argue that Kawhi Leonard is a better all-around player than Kevin Durant. Nothing about it is unimpeachable, and the whole endeavor is aimed at getting people talking, which this most certainly will accomplish.