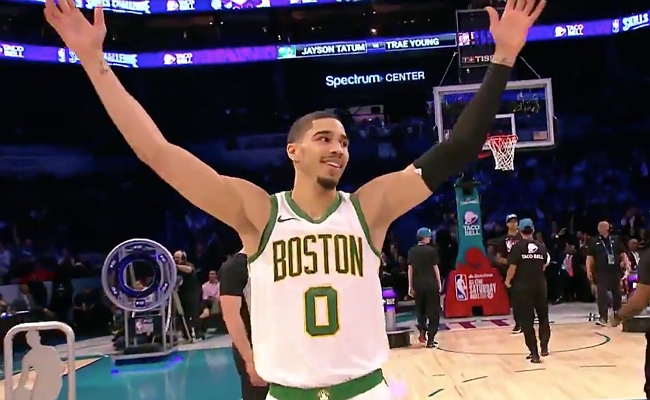 The NBA kicked off All-Star Saturday Night by highlighting some of the league's most well-rounded offensive players. As is always the case with the Saturday festivities, basketball fans were treated to the Skills Competition, pitting players of all sizes and skill sets against one another to get the evening going.
Over the course of three rounds, Jayson Tatum established himself as the NBA's skills king for 2019. Tatum took down Mike Conley, Nikola Vucevic, and Trae Young en route to winning the whole thing for the first time in his young career, capped by a stunning halfcourt shot to win.
The first round pitted big players of similar statures together for the most part, with a whole bunch of come-from-behind victories necessary to pick up wins. Here are the results for the entire first round.
Nikola Jokic beat Nikola Vucevic
Jayson Tatum beat Mike Conley
Trae Young beat De'Aaron Fox
Luka Doncic beat Kyle Kuzma

The most impressive moment of round one came via Young, who looked like he was going to get rinsed by Fox before burying a triple from way downtown, as the Hawks' first-year guard is wont to do.
Doncic tried to one-up it by knocking down an absolutely ludicrous halfcourt shot, and if not for the fact it rimmed out, he would have set the Spectrum Centre ablaze.
Round two featured a pair of fascinating pairings: Standouts for the Celtics and Nuggets against the rookies from the 2018 NBA Draft who, more than anyone else in said class, will forever be linked with one another. It broke down like this.

Jayson Tatum beat Nikola Jokic
Trae Young beat Luka Doncic
Tatum found himself behind the eight-ball early on, missing his opening pass while Jokic was perfect. Tatum closed the gap ever so slightly, however, and after Jokic missed his first attempt at a triple Tatum was able to pounce.
Young taking down Doncic provided as much entertainment as we usually see out of the Skills Challenge. At the very least, we were reminded that Young is the kind of guy who will can threes at will … and that Doncic really loves to heave up halfcourt shots.

The final gave us a battle between a pair of bright young stars in the Eastern Conference. It looked like Young had a leg up on his opponent, but Tatum hoisted up a prayer that the basketball gods answered.
Tatum can certainly play, but on All-Star Saturday, the Celtics 20-year-old standout showed us that he really can do it all on the offensive end.