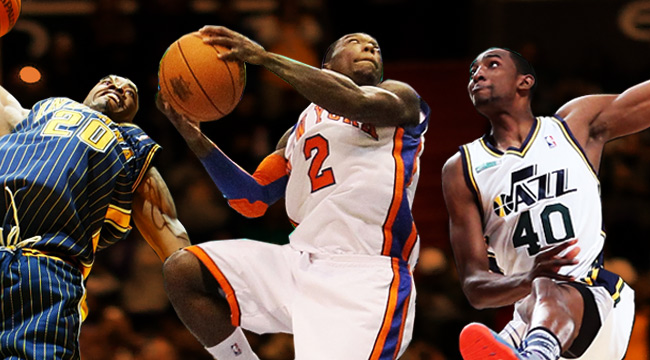 There is a reason that the Slam Dunk Contest has always been viewed as the signature event of NBA All-Star weekend. Yes, Sunday's game is set in the main event slot due to sheer magnetism and star power, but the dirty little secret of the proceedings is that the contest itself is not always terribly entertaining.
In recent years, the three-point shootout has (rightly) ascended in line with the way the game is now played during the regular season but, in the end, it is still a contest between the game's best shooters that can be mimicked by a wide portion of the population, admittedly on a smaller level.
The dunk contest, though, is the best showcase of some of the most explosive athletes in the world. For good measure, massive names like Michael Jordan, Dominique Wilkins and Vince Carter have claimed glory in the event, and their dunking chops undoubtedly added to what would become off-the-charts reputations.
Still, there is a segment of the dunking population that largely remains ignored, to the point where large portions of even the most diehard of NBA fan bases may have forgotten their pure existence.
To that end, there is plenty of room for fondness when taking a look at back at some of the top-flight dunkers that have snatched glory while remaining relatively anonymous.
Today, we will glance at a handful of those players and remember their performances with both excitement and nostalgia. The first? Former Phoenix Suns and Cleveland Cavaliers forward Larry Nance, who happens to have a son with some dunking ability of his own.
1984 – Larry Nance over Julius Erving and Dominique Wilkins
It is probably unfair to Nance to place him on this list, if only because he was an exceptionally good basketball player and a fantastic dunker. He was a three-time All-Star and three-time All-Defense member who averaged 18.3 points and 8.5 rebounds per game over a full decade. Nance was a legitimate household name during his playing career. Still, it qualifies as a forgotten reign at the type of the dunking hierarchy, simply because Nance was able to outperform both Dr. J and Dominique Wilkins in the same year.