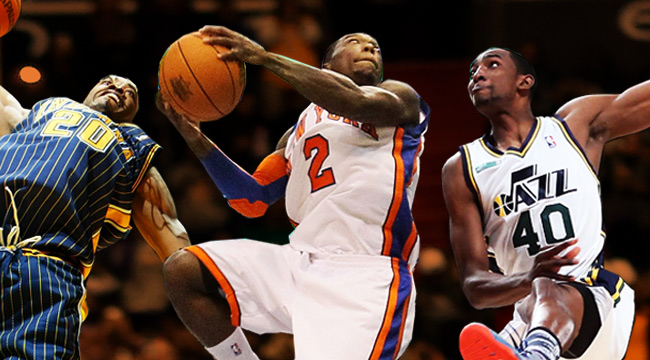 There is a reason that the Slam Dunk Contest has always been viewed as the signature event of NBA All-Star weekend. Yes, Sunday's game is set in the main event slot due to sheer magnetism and star power, but the dirty little secret of the proceedings is that the contest itself is not always terribly entertaining.
In recent years, the three-point shootout has (rightly) ascended in line with the way the game is now played during the regular season but, in the end, it is still a contest between the game's best shooters that can be mimicked by a wide portion of the population, admittedly on a smaller level.
The dunk contest, though, is the best showcase of some of the most explosive athletes in the world. For good measure, massive names like Michael Jordan, Dominique Wilkins and Vince Carter have claimed glory in the event, and their dunking chops undoubtedly added to what would become off-the-charts reputations.
Still, there is a segment of the dunking population that largely remains ignored, to the point where large portions of even the most diehard of NBA fan bases may have forgotten their pure existence.
To that end, there is plenty of room for fondness when taking a look at back at some of the top-flight dunkers that have snatched glory while remaining relatively anonymous.
Today, we will glance at a handful of those players and remember their performances with both excitement and nostalgia. The first? Former Phoenix Suns and Cleveland Cavaliers forward Larry Nance, who happens to have a son with some dunking ability of his own.
1984 – Larry Nance over Julius Erving and Dominique Wilkins
It is probably unfair to Nance to place him on this list, if only because he was an exceptionally good basketball player and a fantastic dunker. He was a three-time All-Star and three-time All-Defense member who averaged 18.3 points and 8.5 rebounds per game over a full decade. Nance was a legitimate household name during his playing career. Still, it qualifies as a forgotten reign at the type of the dunking hierarchy, simply because Nance was able to outperform both Dr. J and Dominique Wilkins in the same year.
In fact, it was Nance that claimed glory in the inaugural slam dunk contest, and he was a deserving victor. It is often stated that the biggest names in the event own an advantage based on recognition, but Nance won this thing on the floor and the highlights don't necessarily do the performance justice given the time period in which it took place.
1989 – Kenny "Sky" Walker over Clyde Drexler
If you are a member of "Big Blue Nation," you probably know the work of Kenny Walker. Outside of that, you may not. Still, this was a performance for the ages in 1989 and it transpired just days after Walker's father passed away.
In keeping with the theme a bit, Walker prevailed over a field that included a Hall of Fame player in Clyde Drexler, and as you can see, he put on a big-time show. Not bad for a guy with a career scoring average of 7.7 points per game at the NBA level.
2001 – Desmond Mason over Deshawn Stevenson and Baron Davis
Desmond Mason is on the short list of best Slam Dunk contestants of all-time. The 2001 win marked his singular victory in the event, but Mason also finished second to Jason Richardson (a dunking legend himself) in both 2002 and 2003. The former Oklahoma State star enjoyed a decade-long NBA career that featured a season in 2004-2005 in which he averaged 17.2 points per game for the Milwaukee Bucks.
Still, Mason is probably best known as a phenomenal athlete that channeled that explosiveness into high-end dunking ability and his array of slams was fantastic. For good measure, it is always fun to see a player wearing Seattle SuperSonics gear.
2004 – Fred Jones over Jason Richardson
This was an upset. Richardson, while not quite as famous as Jordan, Carter, and 'Nique, should absolutely be included on any top-five list of all-time participants in this competition. To illustrate that, Richardson entered as the two-time defending champion, and he had to outlast Desmond Mason in both of those contests. What Fred Jones did, then, was both spectacular and shocking.
Over a 430-game NBA career, Jones was a solid reserve piece, spending more than half of those games with the Indiana Pacers and, fittingly, he represented them here. It is also a bit unusual that Jones never participated in another dunk contest, leaving on top with a victory that became his claim to fame.
2012 – Jeremy Evans over Paul George and Derrick Williams
With everything above taken into account, it isn't a stretch to say that Jeremy Evans is the most anonymous slam dunk contest winner. The Utah Jazz forward put on a show that included jumping over comedian Kevin Hart, and while it was not exactly a fantastic field in the end, Evans took home the crown despite the presence of Paul George and former No. 2 pick Derrick Williams, who happened to be a "hot" commodity during his rookie season.
There is an argument to be made that Evans was actually better in his runner-up performance in 2013, but the point remains. Many NBA fans would not recognize his name without this event.
Nate Robinson three times
It is probably safe to assume that most people have a memory of Nate Robinson winning a dunk contest. However, those same individuals probably have no idea that he won it three freaking times.
Robinson ascended to the top spot in 2006, 2009, and 2010 as a member of the New York Knicks, and as you can see above, he put together some ridiculous dunks. His claim to fame, other than playing college football at Washington, is (a lack of) height, with Robinson measuring in at 5'9. If anything, that is probably a generous listing and Robinson's ability to fly through the air with both explosiveness and power remains jarring.
He might not be the best dunker in history, but Nate Robinson is the only person to win the event on three occasions. That says quite a bit about his consistent level of performance under the bright lights of All-Star Saturday night.