Every NBA season is different. Players change teams. Teams hire new coaches or executives. The conference hierarchy shakes out in a different way and we get different playoff matchups. A lot of times we get different Finals participants and often we wind up with a different champion.
But of course, because the NBA is and has been a league that consists of 30 teams featuring 13-15 players, five of whom are on the court at a given time, there are also things about every season that are the same. A player or a team from one season conjures images of a player or team from the past. Patterns repeat themselves. Archetypes form.
Acknowledging this reality, it's worth identifying a few of those archetypes, and figuring out which players or teams have fit the bill before, and which might do so during the season.

The Player That Makes a Leap and Becomes an Unimpeachable Star
2016-17: Giannis Antetokounmpo
2017-18: Nikola Jokic

Giannis' leap was one of the best stories of last season. He went from a lanky stud with all-world potential to a league cornerstone as he raised his per-game averages across the board, shot better from the field, from three, and from the line, and showcased the ability to impact every inch of the floor with his defense across all positions. He may not be an inner-circle MVP candidate but that's mostly because his team isn't good enough yet; he's a consensus top-10 player and the best current answer to the "which player would you pick to build around for the next 10 years?" question, if only because unlike Anthony Davis and Karl-Anthony Towns, he can also act as a primary ball-handler.
There are people that would tell you Jokic is on that level already, heading into the 2017-18 season. There are also people that would look you in the eye and call you crazy if you even mentioned his name in that conversation. This is the season he makes the conversation irrelevant.
After permanently entering the starting lineup last December 15, Jokic put up 19-11-6 in 29.7 minutes per game. He's perfectly set up for success by Denver's roster and unlike last year, there's no question that the entire team is geared around him. Something like 20-12-8 is not at all out of the question. You know who's done that, ever? Wilt Chamberlain and Oscar Robertson. That's it.
The Team That Has Two Different Seasons Inside of One
2016-17: Miami Heat
2017-18: New Orleans Pelicans
We all know what happened with the Heat last season. They started the year 11-30, then Dion Waiters found some magic beans atop a mountain on Waiters Island, James Johnson tapped into his kickboxing skills, Hassan Whiteside grabbed every rebound that ever existed, somebody convinced Wayne Ellington that it was 2008 and he was getting passes from Ty Lawson, and the Heat charged to a 30-11 record over the second half of the season. (And then Pat Riley spent nearly $200 million to lock in that team, plus Kelly Olynyk, for the next four years. Good times!)
I'd place a pretty strong bet on the Pellies having several seasons within one. There will be the pre-Rondo season where Jrue Holiday starts at point guard. There will be the season where Alvin Gentry experiments with a Rondo-Holiday backcourt. There will be the season where they're trying to convince DeMarcus Cousins to sign a long-term extension this offseason. There will be the season where they're debating whether to trade Cousins before the deadline because they don't know whether he's willing to sign long-term.
And there will be the season-ending sprint here they're desperately trying to nab the No. 8-seed and decide whether they even want to sign Cousins long-term. And those are just the ones I can think of off the top of my head.

The Player Whose Team Puts Him in Position to Play a Role He's Not Best-Suited To
2016-17: Aaron Gordon
2017-18: Brandon Ingram

The Magic seriously tried to make Aaron Gordon a Paul George-style playmaking wing last year. That really happened! Aaron Gordon should run and jump and pick and dive and dunk and steal and block and make some plays at the rim on both ends and if he does all that he could easily be like a 14-9-3 guy with over a steal and a block per game and that would be awesome! Hopefully it happens this year.
The Lakers, if their preseason games are any indication, are going to ask Brandon Ingram to do a lot of self-creation. It seems like they want him to be an isolation scoring wing and because he weighs like nine pounds, that's not the best idea just yet. Ingram has crazy athleticism and even crazier length and if you let him run with Lonzo Ball and fills lanes and make cuts and take spot-ups and create turnovers by jumping into passing lanes he could be a really nice supplementary player right now, and you can worry about him becoming more, later.
Do that, Lakers.
The Team That Pulls Out a Ton of Close Games and Inflates its Win Total
2016-17: Oklahoma City Thunder
2017-18: Washington Wizards
Yes, the first thing most people will think about when looking back on OKC's 2016-17 campaign is Russell Westbrook's borderline OCD run of triple-doubles and epic box score lines. But those triple-doubles were about more than just the counting numbers on at least one level: whenever he got them, the Thunder most likely won. He had an all-time high 42 triple-doubles, and OKC went 33-9 in those games. Just as impressive as their performance in triple-double games, though, was their performance in clutch time.
The Thunder played 42 games that were within five points at any time in the last five minutes, per NBA.com, and went 26-16 in those games, outscoring their opponents by 19.9 points per 100 possessions in the process. Going 10 games over .500 in close and late games is a pretty good way to out-perform your point differential by five seasons.
This year, the team that wins all its close games is going to be the Wizards. There are a few reasons for this. First of all, they have a ton of experience. The Wizards played a league-high 55 clutch-time games last season, going 32-23. That's the most in a single season since the Pistons and Pacers played 56 during the 2008-09 season. Second of all, they have mostly the same group of guys returning, so they know exactly how they want to play when they get into close and late situations, and half the battle of executing well down the stretch is knowing exactly what it is you want to execute.
Third of all, their coach is Scott Brooks, and despite all the consternation in many corners (including, and possibly most loudly, from myself), Brooks' Thunder were actually quite good in close games at their peak: they went 98-55 in clutch time from 2010 through 2014 with Russell Westbrook and Kevin Durant leading the way. John Wall and Bradley Beal will power the Wizards to a similar performance, turning a low-50's win team to a mid-to-high 50's-win team.

The Team That People Think Will Make a Big Leap This Year but it Won't Happen 'Til Next Year
2015-16: Utah Jazz
2016-17: Minnesota Timberwolves
2017-18: Philadelphia 76ers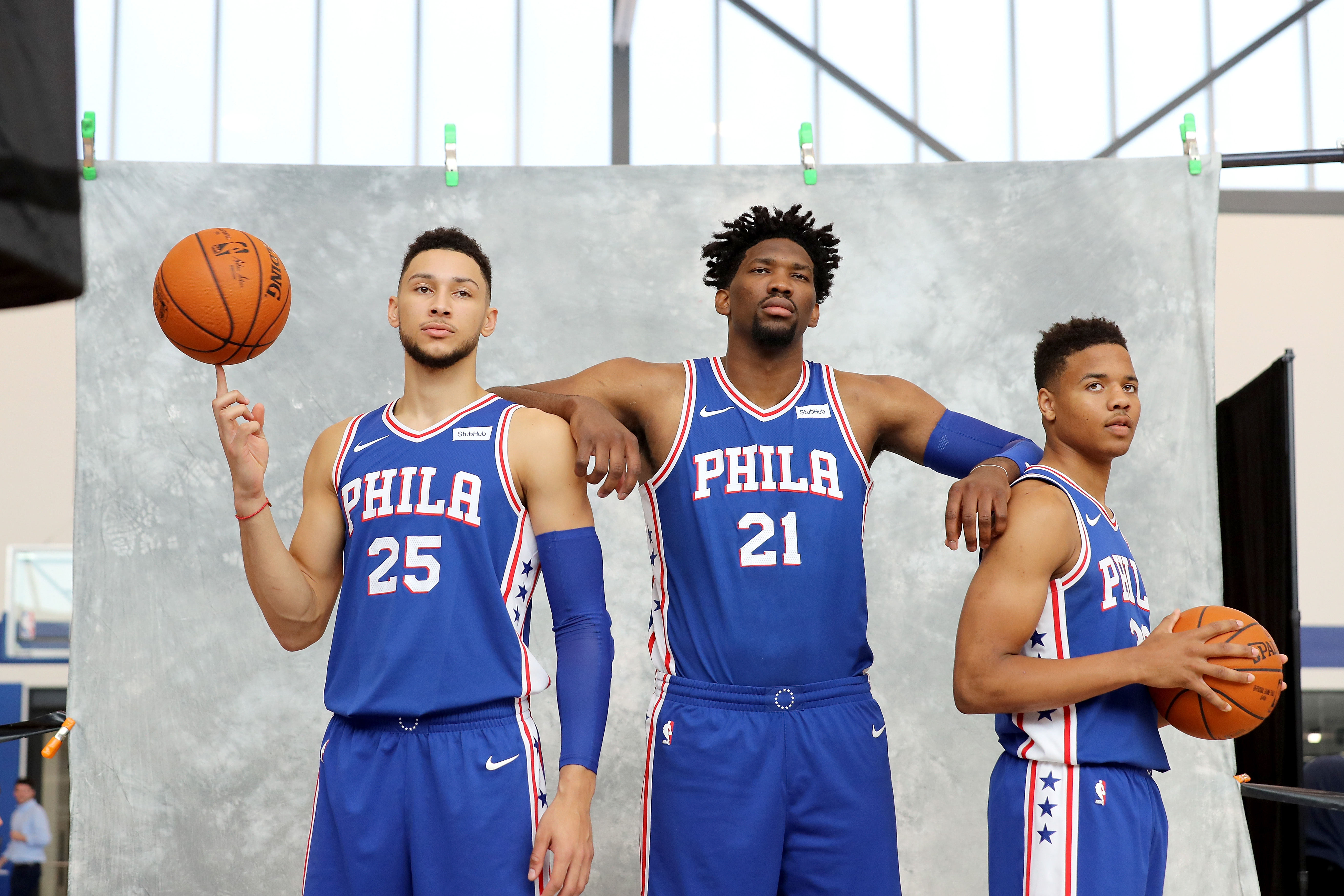 Remember when the Jazz ended the 2014-15 season on a 19-10 sprint after the All-Star break, powered by a league-best defense that took off when Rudy Gobert entered the starting lineup for good after the Enes Kanter trade, and then a lot of people thought the Jazz would make a big leap the next year, but they had point guard issues and injury issues and the West was too deep and so they went 40-42 and narrowly missed the playoffs so they traded for George Hill and signed Joe Johnson and got Boris Diaw and then took a leap last year?
Or remember when the Timberwolves were bad forever but had Karl-Anthony Towns and Andrew Wiggins and Ricky Rubio and Zach LaVine and a bunch of interesting role players and got Tom Thibodeau to be their coach and so a lot of people thought they would make a big leap last year but they had injury issues and didn't know how to play defense and went 31-51 and missed the playoffs so they traded for Jimmy Butler and signed Jeff Teague and got Taj Gibson and now everyone agrees they're going to take a leap this year?
This is the path I see the Process Sixers going. They have Joel Embiid and Markelle Fultz and Ben Simmons and Dario Saric and Robert Covington and Richaun Holmes and J.J. Redick and a bunch of interesting complementary pieces but there's too much injury-related uncertainty here (especially with Embiid), and the principals are all so damn young, and while the East is not at all deep, there are enough moderately competent teams that the Sixers could miss the dance if Embiid doesn't manage to crack, say, 50 games.
Considering he's played 31 games and 786 minutes in three years, it's nowhere near a guarantee he cracks 50, and so we're taking the under in the 2017-18 Sixers and the strong over on the 2018-19 version, assuming Joel doesn't have a season-ending surgery at some point this year.
The Player That Everyone Remembers is Awesome and Wins MVP in Year 2 of a Super Team
2011-12: LeBron James
2017-18: Kevin Durant
Remember when LeBron James was pretty clearly the best player in the league during the 2010-11 season but Derrick Rose won MVP because voters decided they didn't like LeBron anymore because he went to the Heat and so the best player in the world didn't win MVP? That was dumb, and people recognized the dumbness by the very next season, and gave LeBron the MVP again.
Kevin Durant was not the best player in the league for the balance of last season because he got injured and missed a decent chunk of it, but by the end of the year he was playing as well as anybody has ever played, throwing up a bonkers Finals line of 35.2-8.2-5.4-1.0-1.6 with a 55-47-93 shooting performance.
This year is Year 2 of Warriors KD, and all of the kinks will be worked out. He's going to go absolutely bananas during the regular season to the point that people won't be able to deny him the trophy, despite the fact that he's got three All-Star teammates and the best sixth man in the league on his squad.