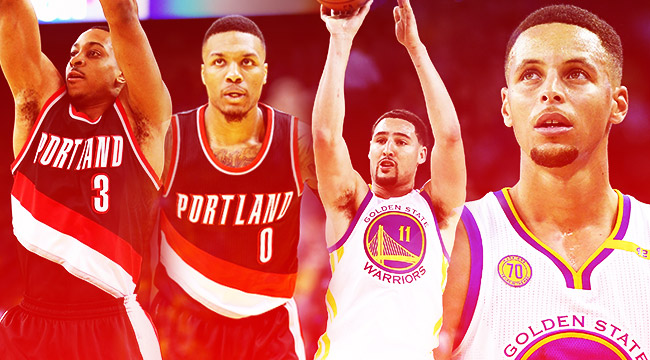 We keep hearing that basketball is a guard-oriented game. At no point in the league's history has it ever been more important to have an outstanding backcourt than right now, and fortunately for fans, the list of outstanding 1-2 guard punches is deep.
But which are the best? We ranked the 10-best backcourts in the league, from the obvious choice at No. 1 to this choice at No. 10…
10. Rockets — Patrick Beverley and James Harden

It's amazing how well Beverley and Harden compliment one another. Harden, of course, is the craftiest scorer in the league. When he has the ball in his hands, he is capable of making the amazing happen. Sure, he is hardly the best defender in the world, but that's where Beverley steps in. He is a tenacious defender, and while he is not known for his ability on the offensive end of the floor, Beverley is a solid shooter – he has hit 37.3 percent of his attempts from three during his career – and his per-36 rebounding, assist, and steal numbers are all solid.
But the thing that makes these two so good is that they understand the psychological aspect of basketball so well. Few people are better at slowly demoralizing a defender over the course of the game than Harden, and Beverley is outstanding at getting into an opponent's head on defense. The Rockets will have to adjust for a few weeks while Beverley recovers from arthroscopic surgery on his knee, and his replacement (Eric Gordon) is no slouch, but Houston is at its best when its starting backcourt is healthy and pestering opponents.
9. Celtics — Isaiah Thomas and Avery Bradley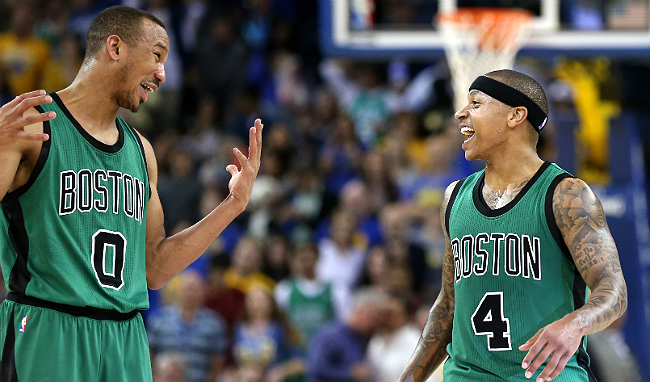 Maybe the toughest backcourt in the NBA, no guard duo fights harder over the course of a basketball game than Thomas and Bradley. The former perpetually has a chip on his shoulder – he was famously taken with the last pick of the 2011 NBA Draft and, undoubtedly, has turned into the greatest final pick ever since the Draft became two rounds. The latter is perhaps the most confident defender in the league, as Bradley relishes the opportunity to guard anyone in the NBA.
Watching Bradley go after dudes for 48 minutes on the defensive end is one of the most fun things in the league. The same goes for when Thomas does just about anything, as he has found a way to turn the fact that he is only 5-foot-9 into an asset instead of a liability. Together, they compliment each other so incredibly well and are the engine that makes the Boston Celtics go.
8. Cavs — Kyrie Irving and J.R. Smith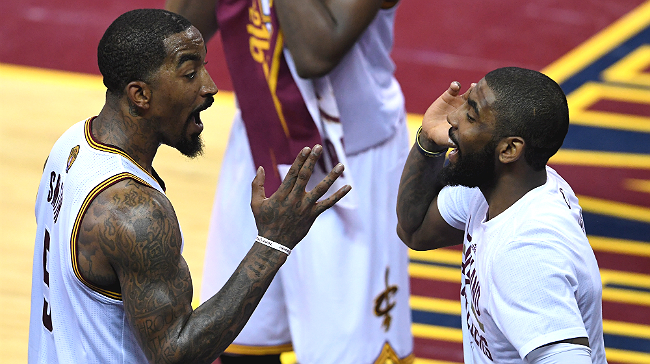 The 2016 postseason reminded us that when Irving is on, he is fantastic. He's a dynamic scorer with an arsenal of moves to break down a defender that may be unparalleled. This is good, because he had some growing pains as he tried to work back from a knee injury that cost him the first few months of last season.
Smith, meanwhile, isn't the kind of guy that you can rely on to show up for 82 games and the postseason. But on the games when he is locked in, Pipe God is magic. Smith can take over a game for stretches at a time, and when paired with Irving, defenses can't key in on one at the risk of the other getting hot.
Sure, if you think defense is important, you will disagree with this ranking. But a case can be made that, just on the offensive side of the ball, the only backcourts better than Cleveland's reside in Golden State and Portland.
7. Hornets — Kemba Walker and Nic Batum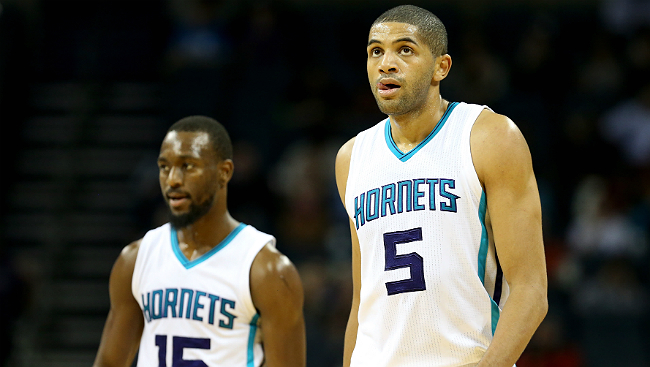 Walker and Batum are perpetually underrated, both as individuals and as a backcourt. This has been the case with Batum for years, while Walker was fantastic during the 2015-16 season (it was, so far, the best impression of the legendary final year that he had at UConn which made him one of the most highly-regarded college ballers in the nation).
Some people believe that the Hornets overachieved last year, and when you ask why, one of the big reasons were the play of Walker and Batum. The team's point guard went for 20.9 points, 5.2 assists, 4.4 rebounds, and 1.6 steals per game while having the best FG/3PT/FT percentages (42.7/37.1/84.7) of his young career. The team's shooting guard had a career-best mark in scoring (14.9 per game) and assists (5.8 per game) while playing solid defense on the wing. He didn't lead Charlotte in defensive win shares, though. That honor went, of course, to Walker.
Together, Walker and Batum make up, quite possibly, one of the three-best backcourts in the Eastern Conference.
6. Thunder — Russell Westbrook and Victor Oladipo
We all know that Westbrook is the favorite to win the league's Most Valuable Player Award. The concept of him being the man in the wake of Kevin Durant's departure is something that has basketball plays so excited – he's the most explosive player in the NBA, regardless of position, and while his usage percentage in 2015-16 was the sixth-highest in the league (31.6 percent), he had to split the time he spent with the ball with Durant, who was ninth in the league in that metric (30.6 percent).
While Westbrook won't suddenly see his usage percentage spike way up or anything, he will certainly have the ball a bit more now. But for really the first time since Harden was traded, Westbrook will have a backcourt mate who can make his life easier in Oladipo. Acquired in a trade that sent Serge Ibaka to Orlando, Oladipo is one of the few guys in the league on the same level as Westbrook in terms of explosiveness. There will likely be a transition period of sorts while he gets used to life with the Thunder, but Oladipo is capable of being a high-scoring guard who hits threes, plays tenacious defense, and handles the ball when Westbrook needs a break.
Once everything clicks in Oklahoma City, there is no team with a more explosive backcourt than Russell Westbrook and Victor Oladipo.
5. Wizards — John Wall and Bradley Beal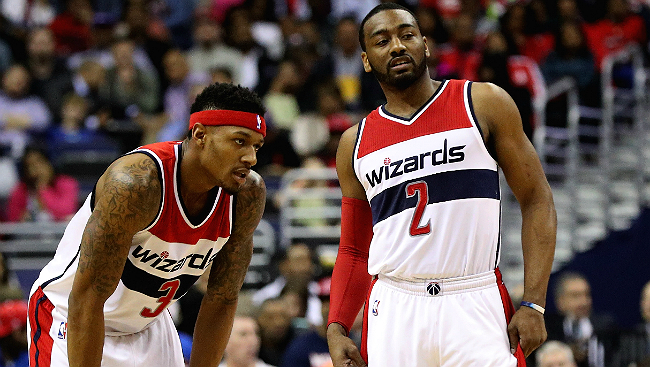 The Wizards' young guard tandem might have a tendency to dislike each other on the court sometimes, but when healthy and playing at their peak, there are few better duos in the league. Wall is perhaps the most explosive point guard in the NBA behind only Russell Westbrook, averaging nearly 20 points and 10 assists per game last season, while finishing third in steals. His jump shot has improved over the years, but he still isn't a reliable threat from the outside, and this is where Beal helps relieve some of that pressure.
The problem with Beal, of course, is that he's injury-prone. He played just 55 games last season as the Wizards failed to make a return trip to the post-season, and he's appeared in more than 70 games in a single season just once in his four-year career. With new head coach Scott Brooks at the helm, the Wizards hope to get back to where they were a couple of seasons ago when they had a shot at a deep playoff run (again, before injuries took their toll), and much of that is contingent on whether Beal can stay healthy.

4. Raptors — Kyle Lowry and DeMar DeRozan
The Toronto Raptors came just about as close to self-actualization as they could imagine when they took the eventual champion Cleveland Cavaliers to six games in the playoffs last spring. But as good as both Lowry and DeRozan were during the regular season – and they were unequivocally tremendous – they both struggled mightily in the post-season.
After shooting 38 percent from downtown during the season, Lowry's efficiency nosedived to just over 30 percent from three in the playoffs. DeRozan was even worse. His overall field goal percentage dipped under 40 percent, and he went from a mediocre-to-bad 33 percent from behind the arc to a positively ghastly 15 percent clip.
It hurt losing Bismack Biyombo to free agency, but the Raptors are still likely the prohibitive favorites to return to the Eastern Conference Finals. But Lowry and DeRozan will have to prove that they can be consistent if they want to pose a legitimate threat to the Cavs' supremacy.

3. Clippers — Chris Paul and J.J. Redick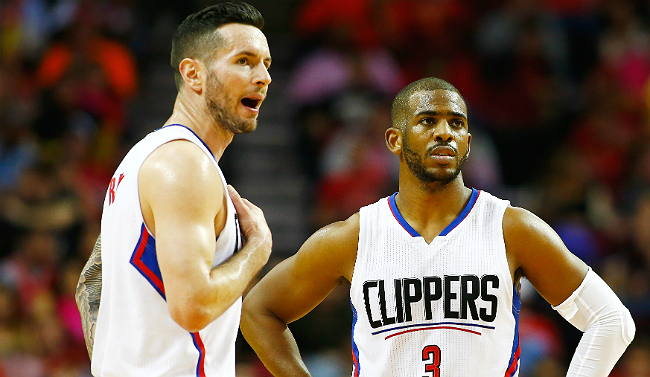 Paul is still one of the two or three best point guards in the NBA, and like Wall, averaged nearly 20 points and 10 assists per game last season while boasting a higher PER (26.31 to Wall's 19.32). There's no one in the league better at running the offense and setting up his teammates, and the way the Clippers somehow managed to thrive during Blake Griffin's extended absence last season was a great litmus test for this.
It helped having Redick at his side, who actually led the league in three-point percentage last season despite the long shadows cast by Steph Curry and Klay Thompson. Redick demoralizes his opponents the way all-time shooters like Reggie Miller and Ray Allen did in their heyday, by running tirelessly around multiple screens to get open shots with dead-eye accuracy. And although he's a little undersized at his position, the numbers show that Redick is actually a much better defender than advertised.
Their combined abilities are exactly what allow the Clippers to be Lob City, i.e. to get easy dunks for DeAndre Jordan and Blake Griffin. But the pressure is on for them to make at least a Western Conference Finals run next spring. Otherwise, the Lob City era in Los Angeles might very well be over.
2. Blazers — Damian Lillard and C.J. McCollum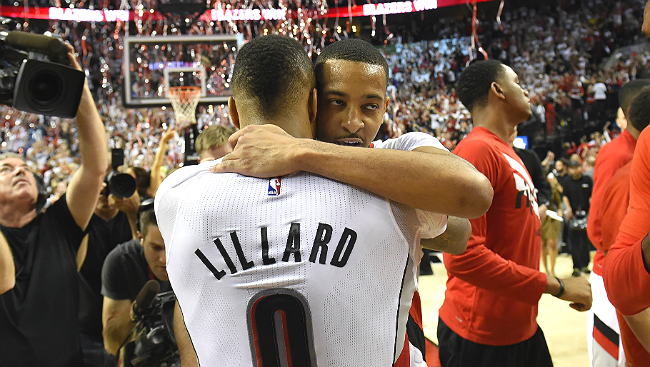 At just 26 years old and entering his fifth season in the NBA, Lillard is easily one of the top two deadliest shooters at his position, a fact that allows the whole Trail Blazers' machine to operate the way it does. When you add McCollum to the equation – who ran away with the Most Improved Player award by averaging 14 more points per game than the previous season – you get the second best backcourt in the league.
In what was initially thought to be a rebuilding year, Portland took everyone by surprise, racing out to 44 wins and a fifth place finish in the West. From there, they made an unlikely run to the conference semifinals, largely because of their guard duo's stellar play. But the real challenge will happen this season when the rest of the league sees them coming a mile away.
1. Warriors — Steph Curry and Klay Thompson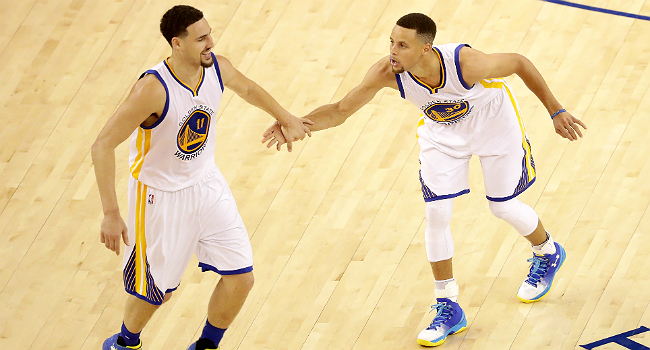 One of them is the best shooter in NBA history, and together they comprise the best-shooting backcourt of all-time. Despite blowing a 3-1 lead in the Finals last spring, they set the regular-season win record, while Curry shattered his own best mark for three-pointers in a season, reaching a threshold (400-plus) that nobody thought was actually possible. They're an absolutely fearsome combination on both ends of the floor: Curry led the league in steals last season, while Thompson continues to be one of the best defenders at his position.
Although both insist that they will not sacrifice their game to accommodate Kevin Durant, their numbers likely won't be as gaudy this season. They're simply won't be as many shots to go around, but if the early returns are any indication, by the end of the season the basketball world will be talking about them in more expansive terms as the "best perimeter trio in the NBA." Still, anything short of a championship will be a blemish on any such distinction.