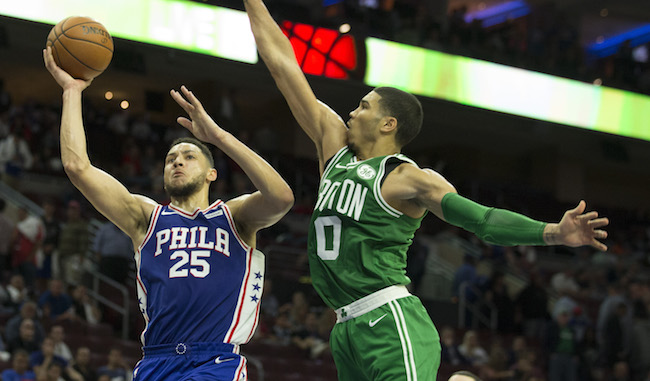 The NBA regular season tips off on Tuesday night as the Celtics head to Philadelphia to face the Sixers and the Thunder get to watch the Warriors pick up their championship rings before playing in Oakland.
With the regular season set to begin, there are finally some real, live, meaningful basketball games to bet on and, with sports betting becoming more and more commonplace, we figured we'd try something new for this season. So, I'd like to introduce you to our NBA Daily Betting Guide. Basically, we want to give you a one-stop shop for the day's NBA lines (spreads, moneylines, and totals) that also gives you the up-to-date trends that are relevant to that game.
So, a teams record against the spread overall and for the given situation (say, on back-to-backs, with multiple days rest, etc.), on Overs and Unders, and any other relevant information will be listed out under the game. Occasionally I might editorialize a bit and offer my own personal lean on a game, but I promise to make it clear when I'm handing out a pick (buyer beware, if you've kept up with my CFB column) and otherwise I'm just presenting all the information you should have to make your own informed wagering decision.
All lines, including opening lines set to the side to show movement, come from the Westgate Las Vegas SuperBook and trend information is from TeamRankings.com (for now, data is from last year). Let's begin!

Philadelphia 76ers (+4.5) at Boston Celtics, O/U 210.5 (OPEN: Celtics -5, O/U 208.5)
These were two of the three best ATS teams from a year ago, with Boston leading the league covering 62.6 percent of their games, while Philly was third at 58.9 percent. Both teams were also excellent when rested ATS, with the Sixers going 14-5 ATS when they had 2-3 days off before a game, while the Celtics were 12-6. Philadelphia was 11-10-2 as a road underdog last year, while Boston was 21-18-2 as a road favorite. Boston went 7-2 ATS against Philly last season, including the playoffs.
As for the total, Boston went Over the number 53.1 percent of the time, while Philadelphia was 45-46-1 on totals, meaning they went Under one more time than they went Over. A reminder that oddsmakers are very good at their job. The Sixers went Over 54.4 percent of the time on the road last year, and the Celtics went Over 55.8 percent of the time at home. In the regular season, they went Under in 3-of-4 meetings, but Over in 3-of-5 games in the playoffs.
(Note: Had this as a Philly home game initially, it has been updated and fixed)
Oklahoma City Thunder (+13) at Golden State Warriors, O/U 221.5 (OPEN: Warriors -12, O/U 224)
Where the first game is a matchup of great ATS teams a year ago, this is a matchup of two of the worst. Golden State covered 44.1 percent of their games last season, while the Thunder managed to only cover 42.5 percent of the time. The Warriors were surprisingly worse ATS at home, covering 41.5 percent of the time in Oracle and 42.9 percent of the time as a home favorite. The Thunder covered 50 percent of the time as a road underdog, and 44.2 percent of the time on the road overall. The teams went 2-2 ATS against each other last year.
Both teams were also Under teams, despite their public reputations (a likely reason for this total dropping since open), with the Warriors going Under in 54.9 percent of their games last year (52.9 percent Under at home) and the Thunder going Under 55.7 percent of the time (53.5 percent on the road). All four of their meetings came in Under the total last year.